New Micro-Loan Will Help Grow Cornwall-SDG-Akwesasne Businesses
February 1, 2023
Cornwall Ontario – As small businesses adapt to the changing economy and the lasting impacts of the COVID-19 pandemic, ACCFutures and the Cornwall Business Enterprise Centre (CBEC) have partnered to offer new business owners more financial flexibility.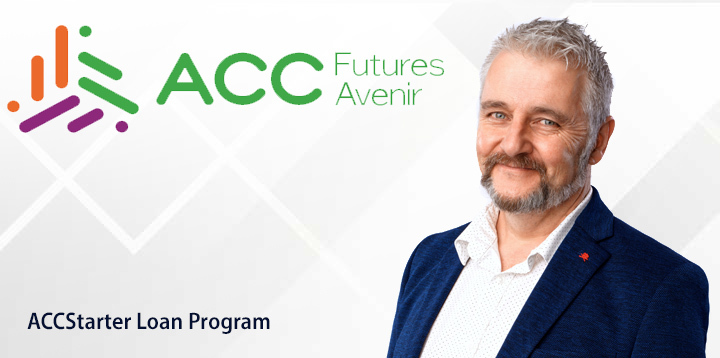 The ACCStarter micro-loan is designed to help small businesses who have successfully completed the Starter Company Plus program qualify for additional financing to help start their business.  The program will support up to 10 businesses across Cornwall, Stormont, Dundas, Glengarry and Akwesasne and will be administered by ACCFutures this year.
"We want to give entrepreneurs the ability to use debt financing as a tool in their business," says Greg Pietersma, Executive Director of ACCFutures. "The ACCStarter micro-loan will empower small businesses by providing additional financing to launch successfully."
Under the ACCStarter micro-loan program, small-and-medium-sized enterprises (SMEs) will be able to access a low interest loan of up to $7,500 upon approved credit. This funding will help leverage e-commerce opportunities, purchase equipment and open up cash flow.
In order to qualify for the micro-loan all recipients' must complete the 10 week Starter Company Plus business training program through the Cornwall Business Enterprise Centre.  The program helps participants prepare business documents including, business plan development, two-year financial forecast, website and social media tools, as well as provide important opportunities to network with other entrepreneurs.
"CBEC is excited to partner with ACCFutures through the ACC Starter micro-loan," says Shauna Baggs, Business Consultant, CBEC. "This new program will provide Starter Company Plus businesses the financing to open a brick-and -mortar store sooner, purchase additional equipment or create a high-quality website from the start."
The Starter Company Plus program is scheduled to begin in April and applications will be accepted until the end of March.  To apply for the program, visit www.businessenterprisecentre.com.  ACCStarter will be available to all participants who complete the program and qualify for the loan.
About ACCFutures
Founded in 1987, ACCFutures is an independent, not-for-profit social enterprise. Formerly Cornwall & the Counties Community Futures Development,ACCFutures is one of 268 organizations in Canada which hold contracts with Canada's Regional Development Agencies (RDA's) to deliver the Community Futures Program. ACCFutures not only offers a wide range of funding, financing and capacity building services to the local business communities—with proven impact—it has also undertaken an innovative Indigenous-focused partnerships program which brings Indigenous and non-Indigenous partners together for a stronger economic future.
About the Cornwall Business Enterprise Centre
The Cornwall Business Enterprise Centre helps small business owners and entrepreneurs succeed in Cornwall, Stormont, Dundas, Glengarry & Akwesasne by offering information, tools and support during the start-up and growth stages of business operation. This includes administration of the Summer Company and Starter Company PLUS programs. The Cornwall Business Enterprise Centre is operated by Cornwall Economic Development and funded in part by the Government of Ontario.
The Cornwall Business Enterprise Centre is located at 100 Water Street East (Cornwall Civic Complex) and can be contacted by phone at 613-930-2787 x2276 or online at:
Related Articles