New Online Data Tool Promotes Eastern Ontario to Investors
July 21, 2021
Cornwall Ontario – Finding the best location for your business in Eastern Ontario is now much easier to do, thanks to the Ontario East Economic Development Commission's powerful new mapping tool.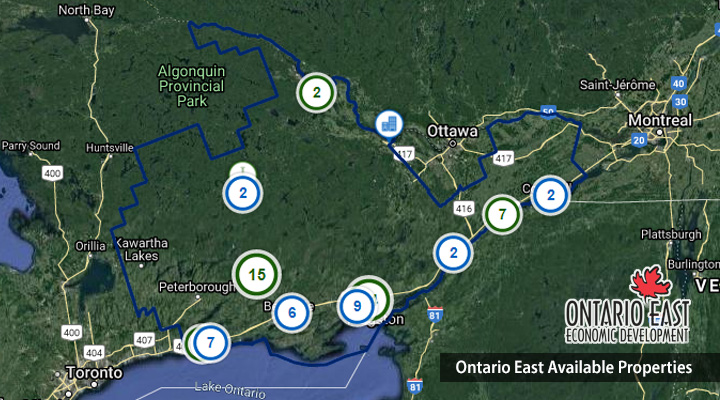 The user-friendly interactive tool combines available property information with demographic and economic data to serve as a primary resource for business recruitment, expansion, and retention. It is powered by GIS Planning's industry-leading ZoomProspector software.
"This tool will help us ensure that our member's prime available employment properties can be discovered and explored by both new businesses seeking an Ontario East location or an existing one looking to expand," said Chris King, President of the Ontario East Economic Development Commission. "This addition to our investment attraction toolbox greatly enhances our member communities ability to showcase the opportunities and advantages of eastern Ontario as a strategic business location."
The new web resource is not just a searchable properties database – it's also an intuitive, robust location analysis tool that includes data on variables such as consumer spending, labour force and demographics. Some key unique features include:
"Being able to offer employers important information on the economic advantages of the region when they are looking to expand into Ontario East is a key component of our new investment attraction strategy" explains Jay Amer, Executive Director, Ontario East Economic Development Commission. "This new resource, when combined with the expertise and direct knowledge our members have about their communities will allow businesses in all sectors to make informed decisions on site selection in this growing region of opportunity."
Cornwall is a founding member of Ontario East, and currently participates in the Commission's Regional Marketing Committee.
"There is very strong demand for built space and greenfield properties as investors look for affordable alternatives to shrinking opportunities in Montreal and Toronto," says Bob Peters, Manager of Cornwall Economic Development. "This new tool helps profile local development opportunities and connects investors with municipal development officers who can help them with the site selection process."
The Ontario East web tool couples these listings and layers with additional proprietary data sources like Environics Analytics (using Statistics Canada data and projections), Emsi, and DataAxle (formerly InfoGroup Canada), and can be found here:
About the Cornwall Business Park
Fully serviced land is currently available in the Cornwall Business Park at $50,000 per acre. Maps, a brochure and a video is available here:
About Ontario East
The Ontario East Economic Development Commission (Ontario East) was established over 30 years ago as a non-profit regional marketing agency with a mandate to develop, implement and administer programs to attract new investment and jobs to its diverse group of communities located in a market accessible region of Ontario, Canada's largest province in size and economy. Ontario East membership comprises professional economic developers and associated organizations, government officials and businesses representing cities, towns and regions throughout eastern Ontario, comprising the region east of the Greater Toronto Area to the Québec border near Montreal and north to Algonquin Park.