New Rolling Billboards Raise Cornwall's Profile
October 1, 2018
Cornwall Ontario – There are two new trailers rolling around Ontario and Quebec highways promoting the benefits of living – and investing – in the City of Cornwall.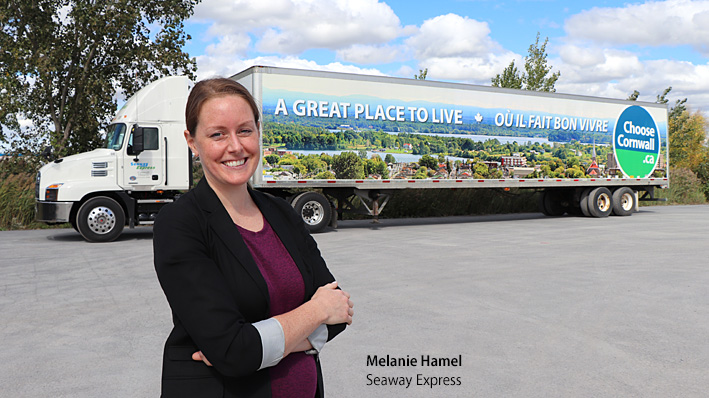 The two 53' foot trailers are part of the Seaway Express fleet based in the Cornwall Business Park. The trailers are adorned with a large image of Cornwall along with the words "A Great Place to Live – Où il fait bon vivre" along with the ChooseCornwall.ca logo.
"These trailers will see hundreds of thousands of kilometres of service as we move goods for our customers throughout the Toronto to Quebec City corridor," says Melanie Hamel, General Manager of Seaway Express. "We are proud to do our part to help promote Cornwall. We think it is not only a great place to live – but also a great place to do business."
Seaway Express has partnered with Team Cornwall and Cornwall Economic Development since 2007 to put a marketing message in front of people travelling throughout the region. The focal point of the effort is to encourage people to visit ChooseCornwall.ca
"Cornwall is a major logistics hub in Canada and it makes sense to promote the city with the very companies that are in part responsible for our recent growth," says Bob Peters, Division Manager with Cornwall Economic Development.  "The ChooseCornwall.ca site is a great portal to information on available jobs and investment opportunities."
This is not the first time that the City has used "rolling" billboards.
In 2009, Delaney Bus Lines unveiled a new coach bus completely wrapped with Cornwall graphics.
In 2012, ChooseCornwall.ca decals were placed on the rear doors of over 400 trucks operated by local transportation companies such as Minimax Transportation, Seaway Express, International Truckload Services (ITS), Tallman Truck Centre, Villeneuve Tank and Freight, and the Benson Group.