New Training Program Accepting Applications
March 11, 2021
Cornwall Ontario – A new training program that seeks to meet employment needs in the Cornwall region is now open for intake.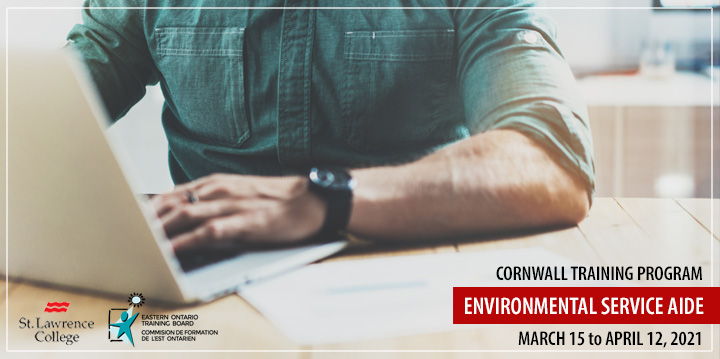 The four-week Environmental Service Aide training program will be offered online and will run from March 15 to April 12, 2021. The training includes:
Health and Safety
WHMIS
Basic Housekeeping
Equipment Maintenance
Infection Control, and more
Once the training is completed, participants will be qualified for work in hospitals, long-term care facilities, retirement homes, hotels, production plants, and more.
"The Environmental Services Aide is an important job and a busy one. We contribute every day to making people's lives better and giving sick people the best chance to recover from their illness. It's a healthcare job, so job security is excellent, and the work is in high demand," said Cindy Ley, Manager, Environmental Services, Cornwall Community Hospital.
The program is being offered by St. Lawrence College in partnership with the Eastern Ontario Training Board.
"SLC Corporate Training is committed to meeting the learning needs of businesses in our community and is actively working with over 345 organizations and thousands of students focused on programs and skills that address the demands of the new economy," said Glenna Schaillee, SLC Manager, Skills Training and Economic Development. "Our mandate is to meet the challenges our partners face with relevant, flexible, practical programs that offer on the job training to students / employees with the goal of increasing productivity and closing the skills gap while supporting the commercial growth and prosperity of Eastern Ontario."
How to Apply
Funding maybe available to those who qualify. To learn more, call: GIAG 613-525-1533 or JOB ZONE D'EMPLOI 613-933-9675
For information on this, and other training offered through St. Lawrence College visit stlawrencecollege.ca
About St. Lawrence College
St. Lawrence College is an integral part of the economic life and social fabric of Eastern Ontario, with campuses in Kingston, Brockville, and Cornwall. St. Lawrence College consistently ranks as one of Ontario's leading community colleges, preparing students for the global economy with relevant, practical, and experiential learning opportunities. Offering over 100 full-time programs, St. Lawrence College is a close-knit community of 10,000 full-time students and more than 100,000 alumni.