New Website for the Great River Ontario Health Team
October 20, 2023
Cornwall Ontario – The Great River Ontario Health Team has launched a new official website.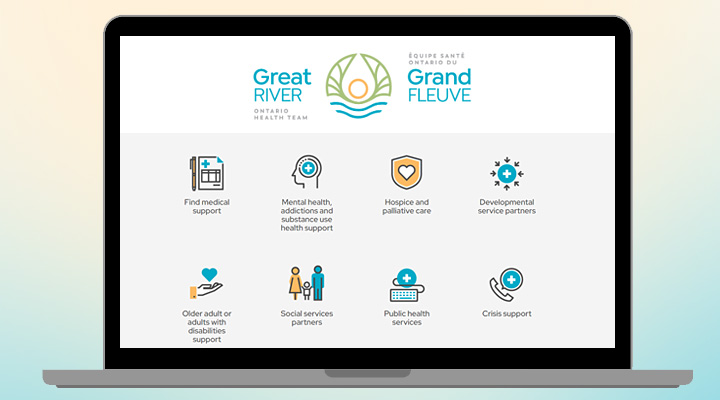 Easy to navigate, resourceful and user-friendly, local residents can access it at www.groht.ca. Learn more about the GR OHT, explore supports or connect to services in the area. Through this website, the GR OHT aims to help the community find the services they need to keep them safe, healthy and supported.
The Great River Ontario Health Team is a collective of health and social service providers who plan and work together, as one coordinated team, to provide integrated services and supports to meet the health needs of people who seek care in the City of Cornwall, Stormont, Dundas & Glengarry, Akwesasne and parts of rural Southeast Ottawa and Russell Township. The Health Team serves a population of approximately 125,000 people, 70% of whom live within the above geography of 4,046 square kms.
The Great River OHT was created to facilitate the transformation of regional health care services to further respond to local population health needs, address patients/clients, families and caregivers challenges and foster enhanced service coordination, collaboration and efficiencies.
About Ontario Health Teams
Ontario Health Teams were introduced in 2019 as a better way to organize and deliver services in local communities to provide patients with better connected, more integrated care. The health care providers who care for you (including hospitals, doctors and home and community care providers) work together as one coordinated team – no matter where they provide care.
An Ontario Health Team is made up of health care providers from several sectors, including, but not limited to:
Family doctors and nurse practitioners
Other primary care providers including family health teams and community health centres
Hospitals
Home and community care
Community support services
Long-term care
Mental health and addictions services
Health promotion and disease prevention services
Rehabilitation and complex care
Palliative care (including hospice)
Emergency health services (including ambulance/paramedicine services)
Specialist physicians
Social service organizations
Great River OHT's Name and Logo
Originally called the Upper Canada, Cornwall and Area OHT, the name was officially changed to Great River OHT in June of 2022. As a result of our local history and unique relationship between Indigenous Peoples, Francophones, Anglophones and Allophones, the organization chose to recognize our most outstanding geographical feature – the St. Lawrence River as it was vital to all peoples (Indigenous, French, English) that came before us. After an extensive process, including consultation with Indigenous partners, it was decided to use the Mohawk name for what is now called the St. Lawrence River – Kaniatarowanenhne, which translates to Great River or Grand Fleuve. In January of 2023, the new logo was unveiled with a great deal of significance, representing the following:
Nature, our geography and the origin of our name are characterized by an image of the sun, river and greenery
Individuals and their well-being are characterized by the same image that can also be portrayed as a person with arms reaching up and out representing balance, whole body, wellness and holistic health
The segments in the greenery or arms represent the many different partners all working together to surround and care for the individual
Connect with The Great River Ontario Health Team online!