New Welcome Centre for Newcomers to Canada
September 6, 2018
Cornwall Ontario – Newcomers to Canada have a new welcome centre in Cornwall.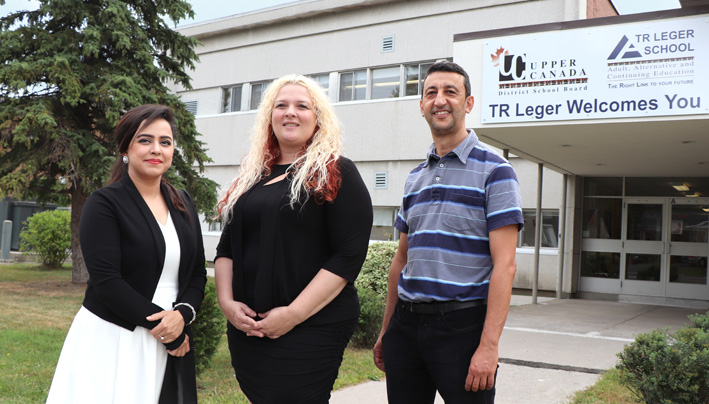 TR Leger Immigrant Services has relocated to 600 McConnell Avenue (the former Immaculate Conception school) and officially opened its doors earlier this week.
"Our new location is more central and easier to find," says Tania Stover, Vice-Principal and Manager of Literacy & Language Services with the TR Leger School. "The building allows us to consolidate our immigrant services on the second floor, and our alternative education services on the main floor. The new arrangement allows for easy communication and teamwork."
TR Leger Immigrant Services is a free resource center for permanent residents, convention refugees and live-in-caregivers to access information relating to settlement, government and community services. Some of the services the Centre offices include:
Settlement Services – settlement outreach workers can assist newcomers to Canada with information on Canadian citizenship, permanent resident cards, employment, housing, education, health services, transportation and more
Language Assessment – assessments are done by a certified Canadian Language Benchmarks (CLB) assessor
Language Instruction for Newcomers to Canada (LINC) – 4 classes
English as a Second Language (ESL) – 1 class
Childcare for Newcomer Children – there is a childcare room located on the 1st floor which allows immigrant parents to participate in language classes upstairs
"We work as closely as possible with community agencies and schools to ensure complete care for families," says Ms. Stover.
TR Leger Immigrant Services is located in the same building as the TR Leger School of Adult, Alternative and Continuing Education. The TR Leger School offers a number of employment preparation programs, literacy preparation and Ontario Secondary School Diploma (OSSD) credit programs.
About TR Leger Immigrant Services
TR Leger Immigrant Services is part of the Upper Canada District School Board and operates under the TR Leger School. It is funded by Immigration, Refugees and Citizenship Canada (IRCC). It is located at 600 McConnell Avenue and is open 5 days a week from 9:30 am to 3:00 pm.
About TR Leger School of Adult, Alternative and Continuing Education
The TR Leger School was established in 1978 and is named after Rosaire Leger, who advocated both locally and provincially for the creation of the school. The school operates 15 learning sites spread out across Eastern Ontario, and graduates just over 300 people each academic year.