New Workshop Series Aimed at Local Enterpreneurs
August 31, 2022
Cornwall, Ontario – Entrepreneurs looking to up their game will be able to take advantage of a number of webinars and workshops this fall.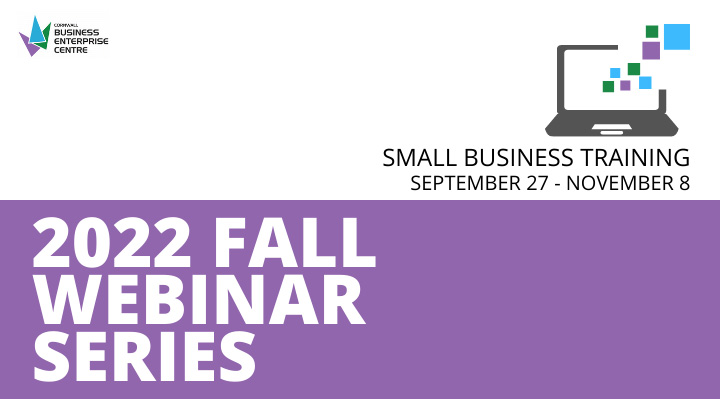 The Cornwall Business Enterprise Centre will be hosting a fall learning series over several weeks starting at the end of September, covering topics such as business plan writing, finance, marketing and sales.
"We are pleased to be able to provide training to small businesses across Cornwall, Akwesasne and the Untied Counties of SDG," said Shauna Baggs, Business Consultant with the Centre. "Each webinar is designed to help entrepreneurs enhance business skills and connect with other small business owners in the community."
Fall Webinar and Workshops
September 27 – How to Write a Business Plan
October 4 – Preparing a Financial Forecast
October 11 – Creating Your Brand
October 18 – Market Research
October 20 – Entrepreneur Roundtable
October 25 – Social Start
November 8 – Learn How to Pitch Your Business to Investors
Mid November – Commercial Financing (date tbd)
… additional webinars to follow
The fall series is a continuation of the Centre's popular spring series. There is no cost to attend, however, participants are asked to register in advance.
"We know small business owners time is limited so we have tailored the webinars in the format of a lunch & learn," says Baggs. "Most of the webinars will be held online on Tuesdays from noon – 1:00pm, allowing business owners to plan ahead and register for the topic(s) they find most interesting."
Bridges to Better Business – October 19
In addition to the above webinars and workshops, Bridges to Better Business returns on October 19. This full day event is held in partnership with ACC Futures and Cornwall and Area Chamber of Commerce. Watch for more info as it becomes available.
Registration
The Cornwall Business Enterprise Centre provides entrepreneurs and small business owners with the support necessary to start and grow successful businesses. Training programs such as the Fall Webinar and Workshops are led by professionals who can provide guidance and information about best practices. All webinars and workshops can be found on the CBEC website:
About the Cornwall Business Enterprise Centre
The Cornwall Business Enterprise Centre has been operated by the City of Cornwall Economic Development Department since 1997 and is funded in part by the Government of Ontario. The Centre provides information and support to entrepreneurs during start‐up and growth stages of business operation. Seminars, workshops and special events are held throughout the year, on topics of interest to various types of businesses. The Centre also administers the popular Summer Company program for student entrepreneurs and the highly successful Starter Company PLUS program.
The Cornwall Business Enterprise Centre is located at 100 Water Street East (Cornwall Civic Complex) and can be contacted by phone at 613-930-2787 x2276 or online at: