Nursing Symposium to be held on the Cornwall campus 
May 22, 2019
Cornwall Ontario – The Cornwall Campus of St. Lawrence College will be hosting the Synapse Nursing Symposium on May 23.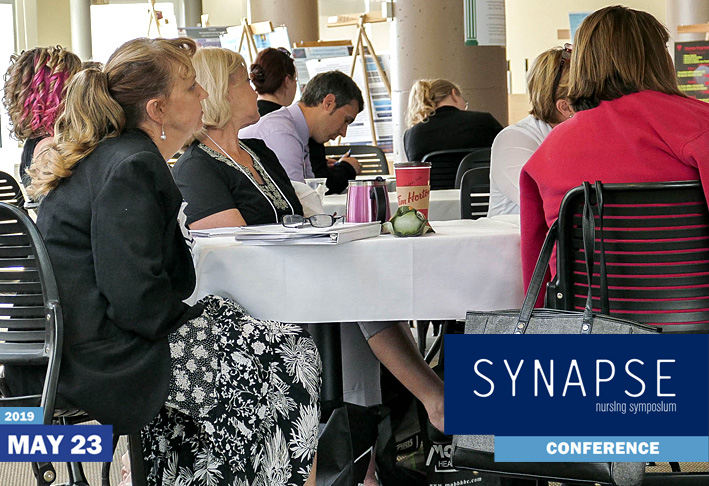 It is the 5th consecutive year that the symposium has been held and also represents the 10th anniversary of the first graduating class from St. Lawrence College's School of Baccalaureate Nursing and its 14th year of collaboration with Laurentian University.
"We expect about 60 people to attend Synapse this year," says Julie Dyke, Conference Chair and Professor at the School of Baccalaureate Nursing in Cornwall. "The symposium is also a valuable networking opportunity among nurses, researchers, educators, and community partners.  "
The symposium is a rich day with more than 14 oral and poster presentations from faculty, SLC Partners and BScN students, which include complete or ongoing studies as well as research proposals. Topics include a variety of nursing education approaches as well as strategies to improve patient care.
The keynote speaker is Dr. Tracie Risling, Associate Professor in the College of Nursing at the University of Saskatchewan with a practice background in pediatric nursing. She began her nursing education career at Saskatchewan Polytechnic and spent five years teaching, and engaged in curriculum development, before assuming a leadership role in the Institute for Nursing Scholarship. Dr. Risling will also moderate a two-part scholarship workshop.
This year's theme, Continuing our Scholarship Journey: Celebrating 10th Anniversary of the First Graduating Class, builds on the momentum from previous years, and seeks to highlight the BScN program, its partners' and alumni's scholarship activities. In honour of the first graduating class 10 years ago from the St Lawrence College, Laurentian University Collaborative Program, Synapse will be hosting a special feature alumni reception from 4-6 pm.
More information is available on the Synapse Nursing Symposium website:
About St. Lawrence College 
St. Lawrence College is an integral part of the economic life and social fabric of Eastern Ontario, with campuses in Kingston, Brockville, and Cornwall. St. Lawrence College consistently ranks as one of Ontario's leading community colleges, preparing students for the global economy with relevant, practical, and experiential learning opportunities. Offering over 100 full-time programs, St. Lawrence College is a close-knit community of 10,000 full-time students, and more than 96,000 alumni.
You can find out more information on the St. Lawrence College website:
St. Lawrence College is also featured in the new edition of Cornwall Living magazine. You can order your complimentary copy by clicking here.