Off-road cycling trails created at Guindon Park
November 18, 2020
Cornwall Ontario – Cornwall's amazing waterfront cycling trails now have a perfect companion – adventurous off-road trails through the tall trees of Guindon Park.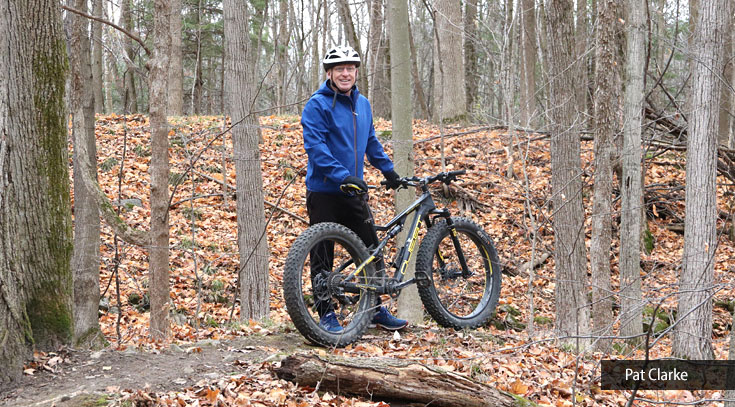 The expansive park on the western edge of Cornwall is now home to 10.5 km of mountain and fat biking trails that weave and wind through the trees, ponds and hills of this outdoor oasis.
The trails were built by Cornwall resident and cycling enthusiast Pat Clarke and several friends, who saw the potential that existed below the park's vast tree canopy. The work to build the trails took hundreds of hours of volunteer time spanning several months, with City staff also lending a hand when needed to clear obstacles or build passages over low spots.
"It's a perfect spot to ride with the hills. People don't realize what we have here (at Guindon Park)," said Clarke. "This is great trail running."
The new trails feature an easier section for children and beginners as well as intermediate and expert portions for more advanced off-road cyclists seeking a challenge. The result is a trail system that covers the entire spectrum from relatively flat, winding trails to stretches with fast, sharp turns and steep inclines and declines.
"We tried to use the hills wherever we could," he added.
Mr. Clarke believes the trails will cater to both local off-road cyclists and visitors in search of a new adventure. He's already spoken to some avid off-road cyclists who regularly visit other trails in the region and they were quite impressed with the experience.
"They loved it," he added. "It's close to home so they don't have to go as far (to cycle)."
Fun in all seasons
While the trails were built primarily for mountain biking, Mr. Clarke said they can be also be used for walking and running. In the winter months, they will also be a good fit for fat biking and snowshoeing. Mr. Clarke hopes to keep a portion of the trails open this winter for that purpose.
Access the trails
The new mountain bike trails can be accessed from the eastern entrance to Guindon Park (the one closest to the intersection of Vincent Massey Drive and Power Dam Drive). They are accessible near the main trail head – look for the small sign markers.
The addition of mountain biking at Guindon Park further cements the park's standing as a destination for off-road cycling and outdoor adventure. The park is also home to the extremely popular Cornwall BMX Track – one of the longest sanctioned BMX tracks in Ontario.
Of course, Guindon Park is immediately adjacent to the Waterfront Trail – which offers over 25km of off-road paved recreation trails along the St. Lawrence River, connecting Cornwall to South Stormont and South Glengarry.
It's time… to get rolling
Enjoy traffic-free trails along the mighty St. Lawrence River with easy access to restaurants, shops, attractions and more. Your next cycling adventure awaits in Cornwall!
Check out the Cornwall Tourism cycling page for everything you need to know to plan your cycling trip, including park and ride locations, maps, Cycle and Stay packages and much more.
Categorised in: Business, Community, Environment, General, News, Sports