Office Assistant Training Available in the New Year
December 10, 2020
Cornwall Ontario – Looking for work?
The Eastern Ontario Training Board is recruiting for an Office Assistant training program, scheduled to begin on January 25, 2021.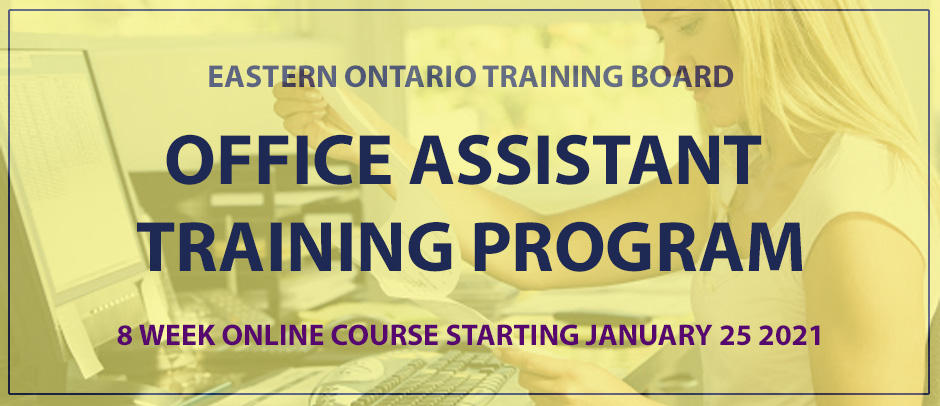 "The objective of the program is to provide people with real-world skills and experience that will lead to long-term employment," says Kimberly Hamilton, Operations Manager at Eastern Ontario Training Board.
The training program will run for 8 weeks. Classes will take place online and will be delivered by St. Lawrence College. Classes will include
Microsoft Office training
Business math
Communications
Office Procedures
Medical Terminology
Employability Skills
Work placement opportunities for jobs such as Office Assistant, Receptionist, Front Desk Clerk and Customer Service Representative.
EOTB will work with participants while in training to ensure successful transition to job placements as well as support participants in securing employment with a wage subsidy for 12 weeks. Eligible candidates will receive free tuition as well as other supports as needed (e.g. transportation, child care, accommodations, etc.)
EOTB is currently recruiting for two streams:
Jobs Now 
self-identified disability
not in receipt of or eligible for EI
unemployed
ready, willing and legally entitled to work in Canada (Canadian Citizen, Permanent Resident or Refugee)
JobsNow – YOUTH
15-30 years old
unemployed, not in full time education or training
experiences a barrier to employment (could be a wide range of barriers but might include, no high school diploma, in receipt of social assistance, precarious housing, visible minority, etc)
How to Apply
Interested candidates are invited to contact Job Zone d'emploi for more information. Please call 613-933-9675.
About the Eastern Ontario Training Board
The Eastern Ontario Training Board (EOTB) was established to play a leading role in labour force development. It undertakes a number of projects throughout the year, and publishes the TOP report on local labour force issues. More info can be found online: