Olsonfab Receives Investment Support from Ontario
December 2, 2019
Cornwall Ontario – Ontario is investing more than $138,948 in Olsonfab Metal Fabrication.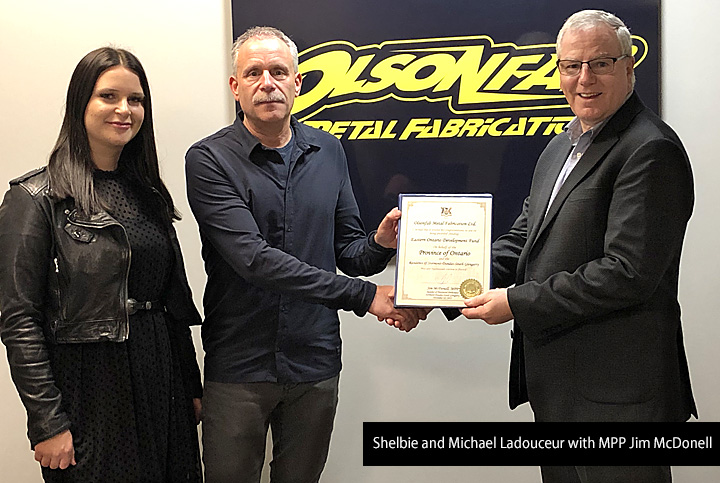 The funds are being sourced from the Eastern Ontario Development Fund and will support improvements to Olsonfab's new 52,000 square foot facility in the West end of Cornwall.
"Ontario's government is committed to the success of our regions," said Jim McDonell, Member of Provincial Parliament for Stormont—Dundas—South Glengarry. "Through investments like these, we're creating an environment where businesses in every corner of our province can focus on what they do best — developing great products and services and building successful companies. It's great to see Olsonfab invest in Cornwall, while creating jobs and strengthening the regional economy."
The investment will help Olsonfab implement measures to increase productivity, introduce new products, including pressure vessels and tanks, and respond to additional demand for its current and new markets. The project will create 10 new jobs and retain 24 jobs, and is expected to be completed by September 2021.
"We are proud to say that Olsonfab has seen major growth within the last few years which has led us to expanding to a second facility," said Michael Ladouceur, President of Olsonfab. "We pride ourselves on being an innovative turn-key shop where we can meet all our clients' needs without having to outsource, or sacrifice quality, time and budget. Our new facility will allow for better productivity, larger projects, new clients, and so much more! With the two facilities up and running, we are very excited for what the future has in store for our team at Olsonfab."
The Eastern Ontario Development Fund is part of Ontario's recently launched Regional Development Program.
About Olsonfab
Olsonfab Metal Fabrication is considered an industry leader specializing in custom metal fabrication, welding, structural steel, millwright/rigging, 3D designs and installations. You can learn more about the company online: