Olymel Looking to Recruit 100 Additional Workers in Cornwall
November 27, 2019
Cornwall Ontario – Olymel is once again looking to grow its workforce in Cornwall.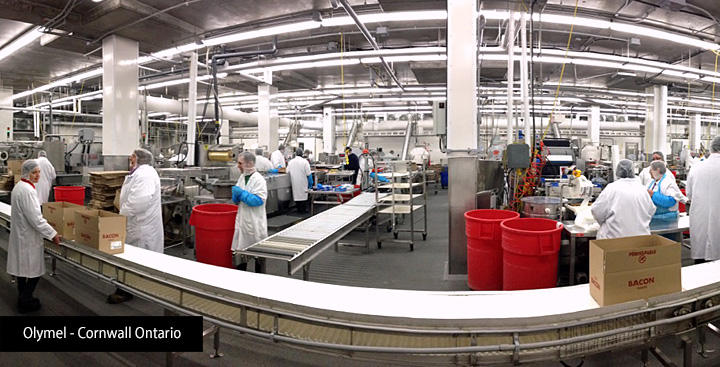 The city's second largest employer is looking to recruit 100 new people to fill a variety of positions at its bacon processing facility in the Cornwall Business Park.
"We are hiring on both shifts (Days and Evenings) right now," says Heather Jiujias, Human Resources Manager for Olymel. "There is opportunity for advancement, that's for sure. As people in the general labourer pool gain experience they can look to move towards more skilled positions such as team leaders and machine operators."
The need for more employees is a direct result in of increasing production. For example, the finished product volume of the fresh sliced bacon has increased by 24% since January 2019 and is still growing.
"Our growth in Cornwall is a direct result for increased demand for our products, both from our corporate customers and from the general public," says Dany Gagnon, Plant Manager. "Our team has met that challenge and we have increased production while maintaining the highest quality standards."
Earlier this year, Olymel acknowledged that it had invested over $1 million in two new production lines and that it had hired over 200 employees in 2018. Since January 2019 the company has hired over 50 additional people, bringing the total workforce in Cornwall to 668.
Employment opportunities at Olymel can be found on the ChooseCornwall.ca Job Board.
The Cornwall plant produces multiple kinds of bacon, including regular, hickory and low sodium.  It offers both fresh sliced bacon as well as pre-cooked bacon products for a variety of markets, including general consumer retail and hotel/restaurant/institution. An emerging trend is natural bacon which has no preservatives.
Olymel continues to invest in innovation and new technology, such as changing the way fresh sliced bacon is packaged to increase shelf life from 21 to 70 days.
About Olymel
Olymel is Canada's leader in the production, processing and distribution of pork and poultry meats. The company has made feeding the world its mission, which it pursues passionately with products of impeccable quality. The company employs over 11,500 persons and has production and processing facilities in Quebec, Ontario, Alberta, New Brunswick and Saskatchewan. Olymel exports nearly a third of its total sales. Its annual sales are on the order of $3.5 billion. The company markets its products mainly under the Olymel, Lafleur and Flamingo brands.  In 2018, Pinty's Delicious Foods as well as Triomphe Foods and its brands including Tour Eiffel, Nostrano and Mother Hen.
For more information about the company, visit: www.olymel.ca