Olymel Steps Up Recruitment with Job Fair
March 17, 2021
Cornwall Ontario – Olymel is stepping up its recruitment efforts by holding a job fair this week.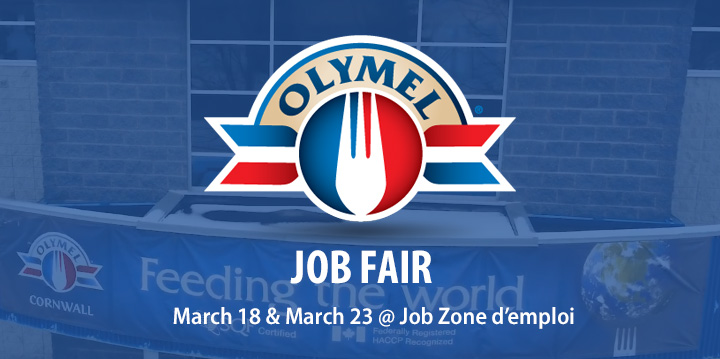 The job fair will be held at Job Zone d'emploi at 144 Pitt Street on the following dates:
Thursday March 18th – 1:00pm to 4:00pm
Tuesday March 23rd – 9:00am to 12:00pm
The job fair is by appointment in order to meet public safety guidelines. Please call Job Zone d'emploi at 613-933-9675 to book your interview appointment.
"Job fairs are an excellent way to meet job seekers and for them to get answers to any questions they may have," says Heather Jiujias, Human Resources Manager for Olymel in Cornwall.
Olymel has steadily grown its workforce to over 600 at its state-of-the-art food processing facility in the Cornwall Business Park. The company has had to get creative over the past several months, filling in gaps with agency workers from out of town and most recently welcoming 24 foreign workers.
Olymel is looking to fill 75 regular positions including permanent full time, part-time weekends and 85 summer student positions.
"We continue to hire local residents however our growth has at times exceeded the local supply," says Ms. Jiujias. "Our jobs often require physical skills in a refrigerated work space and so we recognize it might not be for everyone, which is why we continue to recruit."
Olymel has a long tradition of excellence it the food processing industry. Its products feed Canadian families from coast to coast. Jobs at the Cornwall plant come with a number of benefits, including attendance bonuses, medical and dental benefits, employee discounts on food products,  Monday to Friday work schedule and more.
"We have an excellent team here in Cornwall that focuses on quality and strives to meet the needs of our customers," says Ms. Jiujias. "We have many fabulous employees who come to work every day and do a great job – and we hope to add to that number!"
Jobs at Olymel
Current employment opportunities at Olymel can be found on the Choose Cornwall Job Board
About Olymel Cornwall
Olymel Cornwall operates a state-of-the art food processing plant in the Cornwall Business Park. The company has recently made a number of investments in technology and production systems and now employs over 600 people. Olymel offers both fresh sliced bacon as well as pre-cooked bacon products for a variety of markets, including general consumer retail and hotel/restaurant/institution.