Olymel to Increase Production at Cornwall Plant
February 10, 2023
Cornwall Ontario – Olymel is planning to increase production – and add workers – to its plant in Cornwall.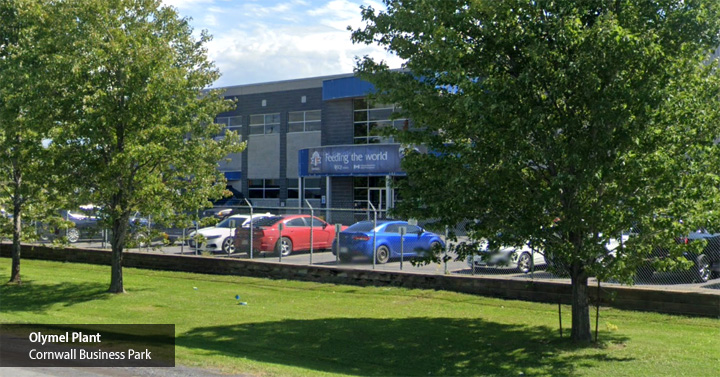 Olymel Cornwall operates a state-of-the art food processing plant in the Cornwall Business Park. The company has recently made a number of investments in technology and production systems and now employs 500 people in Cornwall. The company produces fresh sliced bacon as well as pre-cooked bacon products for a variety of markets, including general consumer retail and hotel/restaurant/institution.
Olymel has steadily grown its workforce in Cornwall to meet rising demand for its products. Following the announcement that Olymel would close two of its smaller plants in Quebec and consolidate production in other locations, the company has confirmed that it expects 25 news jobs to be created in Cornwall. Existing workers in Laval and Blainville will be offered a chance to move to Cornwall. As part of this move, Olymel plans to invest a further $2 million in plant upgrades.
Olymel continues to focus on recruitment efforts and has recently welcomed dozens of foreign workers to Canada. The company has recently increased wages and is looking to hire more employees this year.
"We have an excellent team here in Cornwall that focuses on quality and strives to meet the needs of our customers," says Shelly Harding, Human Resources Manager for Olymel Cornwall. "We have many fabulous employees who come to work every day and do a great job – and we hope to add to that number!"
Jobs at Olymel
Current employment opportunities at Olymel can be found on the Choose Cornwall Job Board:
About Olymel
Olymel is Canada's leader in the production, processing and distribution of pork and poultry meats. The company has made feeding the world its mission, which it pursues passionately with products of impeccable quality. It has production and processing facilities in Quebec, Ontario, Alberta, Saskatchewan and New Brunswick. Olymel exports nearly a third of its total sales. Its annual sales reach $4.5 billion. The company markets its products mainly under the Olymel, Lafleur, Flamingo, La Fernandière, Pinty's, Tour Eiffel and F. Ménard brands.