Olymel Welcomes Foreign Workers to Cornwall
March 11, 2021
Cornwall Ontario – Olymel is welcoming new team members to Cornwall this week, and they've travelled a long way to get here.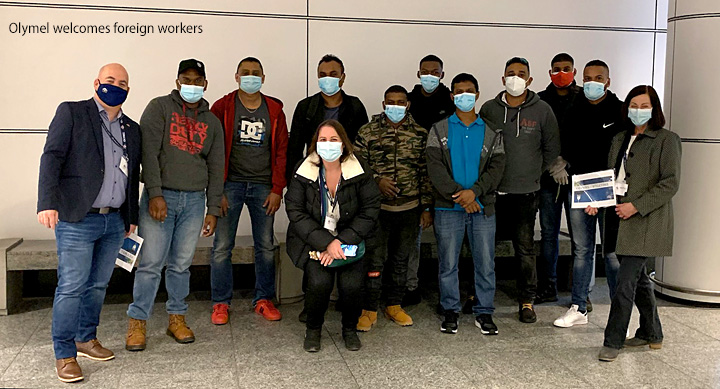 A group of 9 people arrived in Canada yesterday from Mauritius and on Friday another group of 15 people will arrive from the Philippines. Both groups will isolate for a 14 day quarantine period to satisfy public safety protocols.
Olymel staff have worked hard over the past several months to recruit these workers.
"It has been a lengthy and tremendous undertaking, but we are pleased to finally be able to welcome them to our city, community, and workplace," says Heather Jiujias, Human Resources Manager with Olymel Cornwall.
Olymel has steadily grown its workforce in Cornwall to meet rising demand for its products. Adding foreign workers to the mix was a logical next step to ensure that the company has enough manpower to accomplish its goals.
"This has been a community effort to ensure that these people will be able to settle comfortably in Cornwall," says Ms. Jiujias. "Each person will receive a welcome kit from Cornwall Economic Development and the team at Newcomer Employment Welcome Services has been a great help, along with others."
Olymel's work to attract foreign workers mirrors other efforts in the community to bolster support programs for immigrants as local employers look to grow their workforce.
"I am delighted to welcome these newcomers to our community," says Mayor Bernadette Clement. "Cornwall is renowned for its friendly, welcoming nature and it is a great place to start a new career in Canada."
The workers have made a commitment to work for Olymel for 2 years, during which time the company hopes that many will seek to pursue permanent residency status.
Jobs at Olymel
Current employment opportunities at Olymel can be found on the Choose Cornwall Job Board
About Olymel Cornwall
Olymel Cornwall operates a state-of-the art food processing plant in the Cornwall Business Park. The company has recently made a number of investments in technology and production systems and now employs over 600 people. Olymel offers both fresh sliced bacon as well as pre-cooked bacon products for a variety of markets, including general consumer retail and hotel/restaurant/institution.