Ontario Breaks Ground on Long-Term Care Home in Cornwall
September 19, 2023
Cornwall Ontario — Construction is underway at Ted Laurier Place, a new long-term care home in Cornwall. This is part of the Ontario government's $6.4 billion commitment to build more than 30,000 new beds by 2028 and 28,000 upgraded long-term care beds across the province.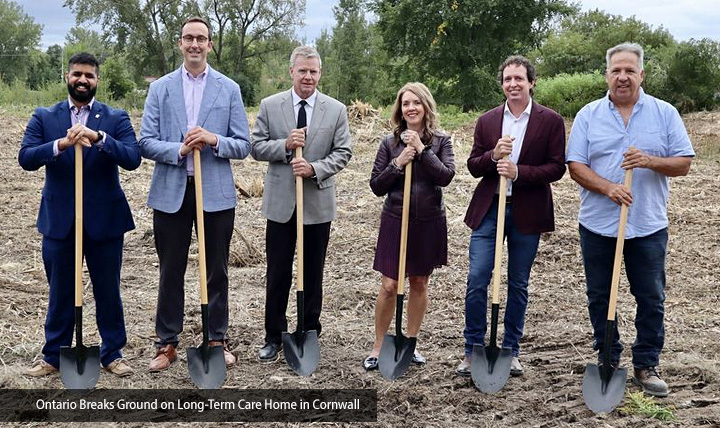 "Congratulations to Ted Laurier Place on their ground-breaking for an upgraded, modernized home. Our government is fixing long-term care, and a key part of that plan is building the modern, safe and comfortable homes our seniors need," said John Jordan, Parliamentary Assistant to the Minister of Long-Term Care. "Our seniors helped build the province we live in today. When Ted Laurier Place is complete, it will mean 128 residents have a new place to call home in the community they helped build."
The new 128-bed Ted Laurier Place will replace the Sandfield Place home, also in Cornwall, and will provide 75 new and 53 upgraded beds in private and basic rooms. The new one-storey building will feature design improvements including larger resident common areas and air conditioning throughout the home — and secure landscaped courtyards for residents and visitors with elder-friendly paths and features, and planters for resident gardening. The design is centred around four 'resident home areas', each of which creates a more intimate and familiar living space for up to 32 residents, with dining and activity areas, lounges and bedrooms. Ted Laurier Place also intends to offer palliative care services, and culturally appropriate services to the Francophone community.
The new home is expected to be completed and welcoming its first residents in late 2025.
"We are focused on quality care and our long-term care residents deserve the very best we can provide," said Stephanie Kinnear Home Administrator, Ted Laurier Place. "We are thrilled to be able to proceed with this project and thank our provincial government for the invaluable investment."
The government is fixing long-term care to ensure Ontario's seniors get the quality of care and quality of life they need and deserve, both now and in the future. The plan is built on four pillars: staffing and care; quality and enforcement; building modern, safe and comfortable homes; and connecting seniors with faster, more convenient access to the services they need.
"Our community welcomes this investment! It is extremely important to ensure that the people who dedicate their lives to building our community are able to age in our community in a safe and accessible way with caring staff," said Nolan Quinn, MPP for Stormont—Dundas—South Glengarry. "Congratulations to Sandfield Place, now Ted Laurier Place, thank you to Parliamentary Assistant Jordan for being here, and thank you to Minister Cho and his team for their commitment to building Ontario."
Quick Facts
As part of its plan to fix long-term care and address sector waitlists, the government is building more than 30,000 net new long-term care beds in Ontario by 2028 and upgrading more than 28,000 older beds to modern design standards.
Building new and upgraded long-term care beds will strengthen our long-term care system by increasing access to long-term care, reducing waitlists, and easing hospital capacity pressures. It will also improve working conditions for staff in long-term care homes and provide safe, more comfortable homes for residents.
Building more modern, safe and comfortable homes for our seniors is part of the Government of Ontario's Fixing Long-Term Care Act, 2021.
The province is taking innovative steps to get long-term care homes built, including modernizing its funding model, selling unused lands with the requirement that long-term care homes be built on portions of the properties, and leveraging hospital-owned land to build urgently needed homes in large urban areas.
The Ontario government is providing a supplemental increase to the construction funding subsidy to stimulate the start of construction by August 31, 2023 for more long-term care homes across the province, including the Ted Laurier Place project. This means projects must have met all criteria to attain government approval to start construction by August 31. Not-for-profit homes have the option to receive a portion of the funding as an up-front construction grant payable at the start of construction. The supplemental increase is part of the funding for long-term care home development.
As of April 2023, more than 40,000 people were on the waitlist to access a long-term care bed in Ontario. The median wait time is 123 days for applicants to be placed in long-term care.