Ontario East Powersports Opens BRP Dealership
February 19, 2020
Cornwall Ontario – For many powersports enthusiasts, it's not about the destination. It's about the journey. It is now easier to begin that journey with the opening of Ontario East Powersports.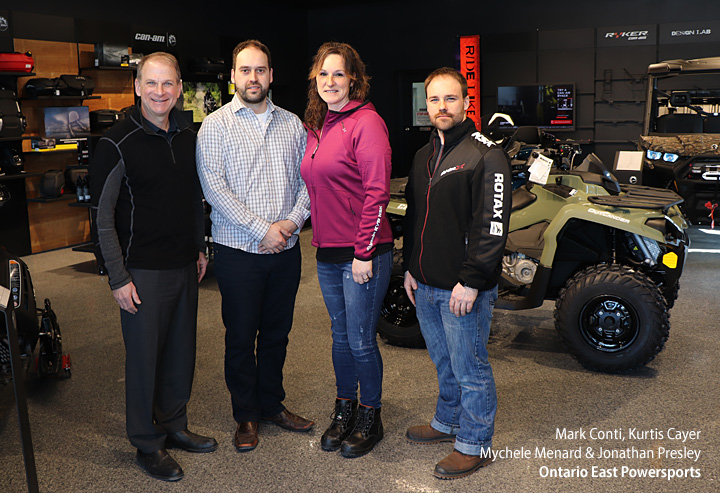 Ontario East Powersports offers the complete line of BRP products which includes Ski-Doo snowmobiles, Sea-Doo watercraft and Can-Am on and off-road vehicles. Vehicle sales are supported with a dedicated parts and service department.
"There was no BRP dealership along Highway 401 between Kingston and the Quebec border," says Mark Conti, Managing Partner of Ontario East Powersports. "We are happy to fill that gap, and look forward to servicing the needs of people in SDG, Leeds and Grenville and beyond."
Ontario East Powersports is centrally located in Cornwall in a newly renovated 10,000 sq.ft. building on Rosemount Avenue. The facility includes a bright showroom, parts department and service garage.
"Powersports is a great way to get out and enjoy the outdoors – 4 seasons of the year," says Mr. Conti. "BRP continues to solidify its position as market leader by continually investing in innovation and expanding its impressive portfolio of products."
Ontario East Powersports has the same ownership and focus on customer services as Cornwall Mazda. Cornwall Mazda is celebrating its 40th anniversary as a Mazda Dealer having taken on the franchise in 1980.
Ontario East Powersports is located at 1405 Rosemount Avenue and is open Monday through Friday from 8:00am to 5:00pm, and on Saturdays from 9:00am to 3:00pm. The dealership can be reached at 613.935.6720 or online at
About BRP
In 1937, Joseph-Armand Bombardier was granted a patent for the first ever vehicle that can travel on snow, developed in his garage in Valcourt, Quebec. Over the years, Bombardier refined his design, and launched the Ski-Doo in 1959. In the years to follow every playground was explored, revolutionizing the powersports industry. In 2003, the recreational products division of Bombardier became a standalone Canadian company – BRP – with manufacturing facilities in Canada, the United States, Mexico, Finland, and Austria.