Ontario is Making it Easier to Start a Business
April 12, 2022
Cornwall Ontario – It is now easier to start and grow a business with the launch of the new Ontario.ca/business website.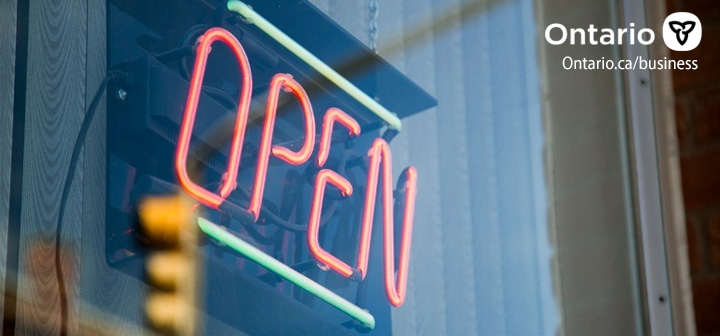 "We're working toward making it easier for entrepreneurs and growing businesses to navigate, access, and find the information they need to open their doors for business," said Nina Tangri, Associate Minister of Small Business and Red Tape Reduction. "With the launch of the new website, we're taking the first step toward a holistic, start-to-finish approach to allow entrepreneurs to more effectively interact with government in meeting the requirements to get their business up and running."
This new resource is the first step towards creating a single window for business that will reduce administrative burdens and make it easier for Ontario business owners and entrepreneurs to access the information and services they need to get up-and-running, create jobs, and grow their business. The website is one of the initiatives being implemented as part of the Fewer Fees, Better Services Act, which received Royal Assent on March 3, 2022, and builds on successive efforts to cut red tape and reduce unnecessary regulatory burdens for businesses.
"We heard from the business community that it can be overwhelming to find information on how to start a business in Ontario," said Kaleed Rasheed, Associate Minister of Digital Government. "Our government listened and created Ontario.ca/Business with consolidated information to make it easier for entrepreneurs to navigate the process of starting a business, so they can pursue their dreams faster and help build a stronger Ontario."
Over time, the website will develop into an intuitive, predictable and transparent source of information needed for new and growing businesses, with new tools added to meet the needs of entrepreneurs and business owners. This will take the confusion out of completing necessary paperwork and permits, including some that will be backed with a service guarantee.
"The launch of Ontario.ca/business signals that the province has listened to business owners and is raising the bar for customer service," said Vic Fedeli, Minister of Economic Development, Job Creation and Trade. "We're going to take the guess work out of starting a business in Ontario by using modern technology and design to remove obstacles that unnecessarily complicate the business application process."
Cornwall Business Enterprise Centre
In addition to online resources, the Province helps fund the Cornwall Business Enterprise Centre, which provides assistance to entrepreneurs in Cornwall, SDG and Akwesasne.
"We are here to help business owners navigate the sometimes choppy waters of establishing and growing their business," says Shauna Baggs, Business Consultant with CBEC. "We can help answer the basic questions of how to register a business to more complex issues such as reviewing business plans."
The Cornwall Business Enterprise Centre is located at 100 Water Street East (Cornwall Civic Complex) and can be contacted by phone at 613-930-2787 x2276 or online at:
Quick Facts
Access the website at Ontario.ca/business
This initiative is one way that the Government of Ontario is acting on the Building a Digital Ontario strategy. Released last year, the strategy lays the groundwork for Ontario's long-term digital and data transformation, including the adoption of new digital tools.
The Fewer Fees, Better Services Act, passed on March 3rd, will make it easier and quicker for Ontario entrepreneurs to start a business, and for businesses to access government services.
The Cornwall Business Enterprise Centre is part of a network of 53 small business enterprise centres across Ontario.
Government of Ontario has renewed its commitment to young entrepreneurs, aged 18 – 39, with the support of a $1 million investment in Futurpreneur Canada. Futurpreneur is a non-profit organization helping Canadians become business owners with loan financing, mentoring and business resources.
Ontario is investing $5 million over two years in a targeted program for Indigenous, Black and other racialized entrepreneurs to start or grow their business. The Racialized and Indigenous Supports for Entrepreneurs (RAISE) Grant helps to remove systemic barriers by providing funding, training, and culturally relevant services to entrepreneurs. RAISE is administered through the Digital Mainsteet program.