Ontario Offering Greater Choice for Nursing Students
February 14, 2020
Cornwall Ontario – Nursing students may soon have the opportunity to earn Bachelor nursing degrees at St. Lawrence College in Cornwall.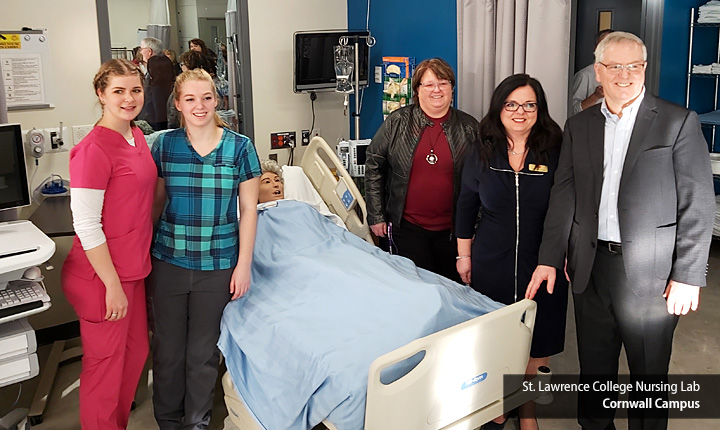 The Ontario Government is making changes to permit colleges and universities to offer Bachelor nursing degree programs on a stand-alone basis.
Since 2000, a collaborative nursing education policy required that Ontario colleges and universities partner to offer Bachelor degree programs for registered nursing. Since that time, post-secondary education and health systems in the province have grown and evolved. Many institutions have experience in offering degree programs in other areas of study on their own. With this new change, colleges and universities can now apply to offer nursing education for future registered nurses as a stand-alone degree, subject to necessary approvals, including the College of Nurses of Ontario and quality assurance processes.
"This new policy will allow institutions to have greater autonomy and flexibility over their programming, while maintaining excellence in nursing education," said Jim McDonell, MPP for Stormont-Dundas-South Glengarry, "Colleges and universities will be able to choose whether to deliver their programs collaboratively or on a standalone basis. For colleges, this will be the first time they would be able to offer the Bachelor nursing degree independently of a university partner."
St. Lawrence College currently offers a number of Health Sciences courses at the Cornwall campus, including a 2 year diploma in Practical Nursing and a 4 year Bachelor of Science in Nursing (BScN) offered in collaboration with Laurentian University.
"Today's announcement recognizes that colleges are providing education at a degree level.  This is a testament to the quality and sustainability of the work being done across our province by college educators, staff, and community partners to prepare students to become highly-skilled and compassionate nurses" says Glenn Vollebregt, President and CEO of St. Lawrence College. "We know that our students want to learn, live and work in our communities following graduation and we also know that our community needs skilled people to take on the healthcare jobs of the future. Being able to earn a degree right here at St. Lawrence College helps ensure that local talent stays local."
Maintaining excellence in nursing education continues to be a priority for Ontario. The government will require that all institutions that desire to have a stand-alone nursing program for future registered nurses submit both a joint dissolution plan to the Ministry of Colleges and Universities and a separate business case in support of the new program. In addition, colleges would be required to have their proposed new stand-alone program receive Minister's consent under the Postsecondary Education Choice and Excellence Act, 2000. New programs will also need to be approved by the College of Nurses of Ontario as set out in regulations made under the Nursing Act, 1991.
"Safeguarding Ontario's competitiveness and building Ontario's economy means ensuring our postsecondary institutions are training students for the jobs of today and the future," said Minister of Colleges and Universities Ross Romano. "That is why Ontario is introducing a new pathway for nursing education, to offer greater choice for students."
By having these safeguards in place, Ontario is ensuring excellence in nursing education, while expanding choice for students and providing greater autonomy to institutions.
QUICK FACTS
To become a registered nurse in Ontario (and a member of the College of Nurses of Ontario), students must obtain a baccalaureate degree in nursing.
Except for Queen's University and the University of Toronto, which have independent nursing programs, all other institutions in Ontario offer nursing programs for future registered nurses through a collaborative partnership.
Since the collaborative nursing education model was implemented in 2000, postsecondary education and health systems have grown and evolved. Many colleges now have experience in delivering and managing degree programs.
Successful implementation of this new policy is dependent on the Ministry of Health working with the College of Nurses of Ontario to amend a regulation made under the Nursing Act, 1991.
Providing institutions with the option to continue a collaborative partnership or offer a standalone program for future registered nurses allows greater flexibility in meeting particular needs in local communities, while continuing to equip students with the skills and training necessary to meet the standards of care Ontarians deserve from our healthcare professionals.
About St. Lawrence College
St. Lawrence College is an integral part of the economic life and social fabric of Eastern Ontario, with campuses in Kingston, Brockville, and Cornwall. St. Lawrence College consistently ranks as one of Ontario's leading community colleges, preparing students for the global economy with relevant, practical, and experiential learning opportunities. Offering over 100 full-time programs, St. Lawrence College is a close-knit community of 10,000 full-time students, and more than 99,000 alumni.
You can find out more information on the St. Lawrence College website: