Open House to Review Cornwall Zoning Bylaw
February 10, 2020
Cornwall Ontario – Residents and business owners looking to have input into the City's zoning bylaw will have the chance at the first of a number of public meetings planned this year.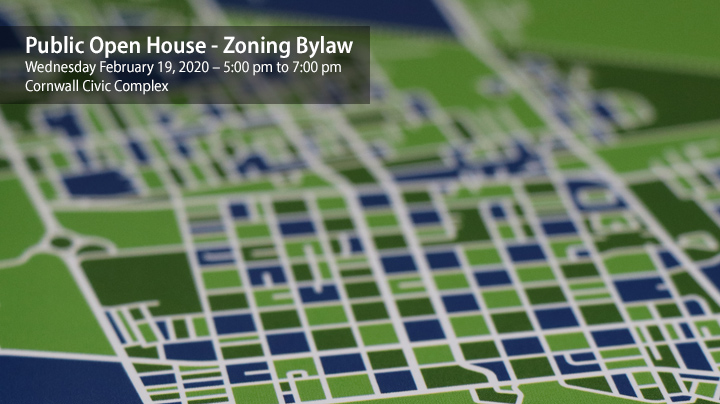 The City's Planning Department will be holding an open house to allow people to learn more about the process, how zoning affects your property, and how to provide input. Details are as follows:
Public Open House – Zoning Bylaw
Wednesday, February 19, 2020 – 5:00 pm to 7:00 pm (Presentation at 5:30 pm)
Cornwall Civic Complex, Salon B, 100 Water Street East, Cornwall, ON
"This open house is the first of a number of public engagement efforts as we undertake a review of our Comprehensive Zoning By-law," says Mary Joyce-Smith, Division Manager of Planning. "We are very interested in hearing the thoughts of property owners as we move through this process."
The review process will eventually result in a new Zoning By-law that applies to the entire city. The zoning by-law divides the municipality into different land use zones (eg residential, commercial and industrial) and specifies the permitted uses and required standards in each zone. Following the adoption of a new Official Plan in 2018, the City's by-law is now due for an update.
The zoning by-law determines how land may be used, where buildings and other structures may be located, the types of buildings permitted and how they may be used, as well as lot sizes and dimensions, parking requirements, building heights and setbacks from the street.
At the Public Open House, City Staff and WSP, the City's consultant, will be available to answer questions and obtain comments. Kids' colouring activities will be available and attendees will be eligible to win one of four door prizes.
For additional information on the Zoning By-law Review process, please visit the City's website. The website will be updated with upcoming engagement events, and as reports and the Draft Zoning By-law and Schedules (maps) become available.
Categorised in: Business, Community, Environment, General, News