Opening day arrives at Summerheights Golf Links
May 15, 2020
Cornwall Ontario – After much anticipation, Saturday marks opening day at Summerheights Golf Links. It will also mark the opening of a whole new era at the popular Cornwall golf course.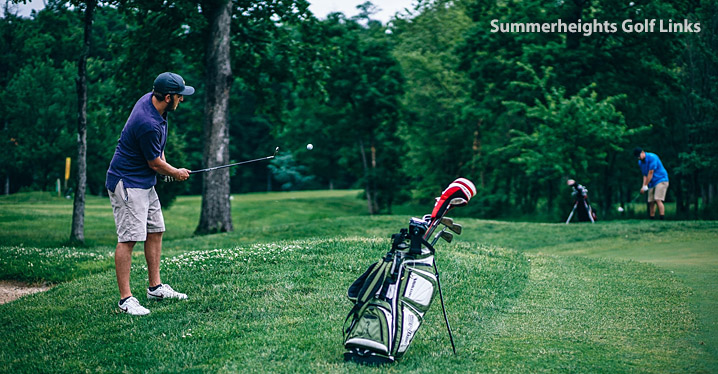 As with other businesses reopening during this challenging time, Summerheights will have a variety of new measures in place to support physical distancing and ensure the health and safety of visitors while providing an exceptional golf experience at the same time.
"We need to provide a distancing protocol and we have a pretty good feel for how we're going to do it," said Rory MacLennan, proprietor at Summerheights. "But like everything at this point, it's all new to us so what happens today could be different tomorrow. We're going to have to adjust if need be."
The MacLennan family was extremely excited to open the course, and they had been busy coming up with plans and provisions leading up to Premier Doug Ford's recent announcement to allow the reopening of golf courses. The MacLennan family weren't alone in their excitement.
"We've been doing curbside (pickup) of memberships, green fees and gift cards and we were super busy this past week," said Rory's wife Kathy, who also helps with the family business.
As for the course itself, Rory said it's in great shape. Despite the closure, crews have been busy maintaining the course and the weather has been favourable.
"It's going to be amazing (golf)," Rory added.
New measures
Whether you're a regular or a first-time visitor to Summerheights, one thing is for sure – it will not be the usual experience.
A variety of measures have been put in place to continue to promote physical distancing and ensure the health and safety of visitors and staff alike. Some of the key changes include:
Golfers must have a tee time in advance (call 613-938-8009 or book online) and they are asked not to arrive any more than 15 minutes prior to their tee off time. Groups will be placed in foursomes and the window between tee times will be extended to 10 minutes.
Power carts will be single riding only unless you are already confined within the same household.
The driving range, putting green and chipping green area will remain temporarily closed.
Flags on the green will have a foam block at the bottom to prevent the ball from going in the hole. Please do not touch the flagpole. If you hit the foam, the ball is considered holed out.
No club rentals will be available.
The restaurant and lounge remain closed however beverages and snacks are available in the proshop. Only two people will be allowed in the proshop at one time.
There will be no beverage cart until further notice while the halfway house will remain closed until further notice.
In addition to the changes on the greens, MacLennan said the course has implemented additional training for staff along with rigorous cleaning and safety measures.
For a full listing of the new guidelines at Summerheights, make sure to check out their Facebook page.
About Summerheights Golf Links
Established in 1962, Summerheights Golf Links is family owned and operated, featuring 36 holes, leading and excelling in the ever-changing golf environment, while providing the most entertaining and enjoyable golf experience.
Summerheights is a 36-hole layout on South Branch Road in the north end of Cornwall and it remains family owned and operated by Rory and Kathy MacLennan. Over the past 54 years, the course has hosted countless tournaments, welcomed celebrities and most of all welcomed golfers to have the opportunity to learn and love the game of golf.