OPG holds first Women in Science Conference
March 6, 2019
Cornwall Ontario – Ontario Power Generation is hosting its first-ever Women in Science Conference this week, inviting female grade nine and ten students from Cornwall, Ottawa and surrounding area high schools to learn more about remarkable women leading professional careers in science within their own community.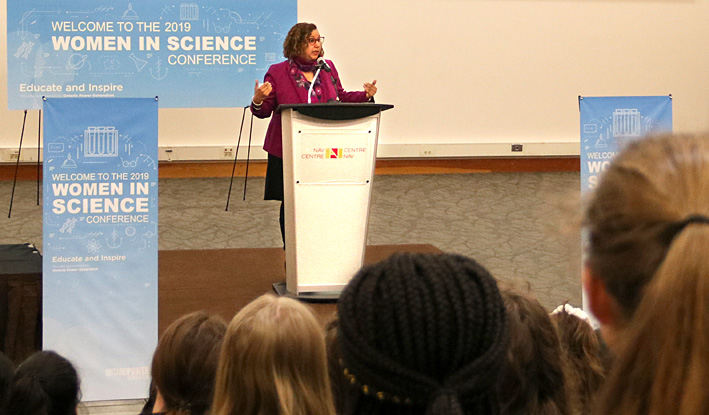 The two-day conference kicked off on Wednesday, March 6th at the NAV CENTRE with an excited group of future leaders on hand to hear Mayor Bernadette Clement bring greetings on behalf of the City of Cornwall.
The event included remarks from inspirational guest speakers followed by breakout sessions that will allow students to engage with prominent women working in science-related fields. OPG has also partnered with the Cornwall Community Hospital, St. Lawrence College, the River Institute and the Mohawk Council of Akwesasne who will be participating in the conference.
"Throughout history, women have made important contributions to science and it's vital that we continue to encourage our younger generation to do just the same," said Barb Keenan, OPG Senior Vice-President, People, Culture & Chief Ethics. "This conference will provide young women with the opportunity to broaden their horizons, expand their interests, and inspire them to pursue studies in science by meeting women working in such roles."
This year's conference will be co-chaired by Jane Travers, Vice President for Asset Management & Optimization for OPG and Jessica Polak, Vice-President of Niagara Operations for OPG, who will also be delivering remarks to the students.
OPG is one of the most diverse electricity generators in North America. It produces about half of the electricity Ontarians rely on every day, and its clean, safe, power costs an average of 40% less than other generators.
About NAV CENTRE
The NAV CENTRE is training and conference venue situated on a large property overlooking the St. Lawrence River It offers access to 550 guest rooms, 70 state-of-the-art classrooms and meeting rooms, as well as an auditorium. Other amenities include a spa and fitness facilities along with the Jet Set Pub and Propeller Restaurant. The NAV CENTRE is  owned and operated by NAV CANADA and is an accredited member of the International Association of Conference Centres (IACC).
For more information, visit www.navcentre.ca.