OpSun Establishes Operation Centre in Cornwall
September 9, 2020
Cornwall Ontario – Opsun has established a solar photovoltaic racking structure warehouse and operation centre in Cornwall.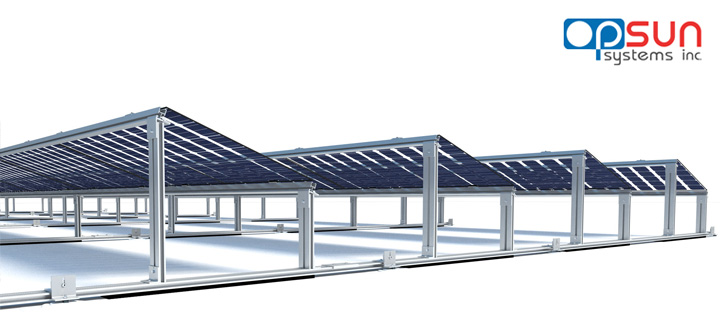 Opsun designs and manufactures mounting systems for solar panel installations. The company is headquartered in Quebec City while the Cornwall facility handles warehousing, logistics and shipping.
Founded in 2005, Opsun began as a high-tech research laboratory focusing on next-generation solar technologies. Through the years, Opsun's scientists and engineers developed a leading expertise in solar power plant structure design. This led to a novel approach to PV racking: instead of selling a limited product at 5 or 10 degrees, Opsun developed a proprietary platform which allows to quickly design, optimize and manufacture virtually any racking structure.
This flexible approach allows Opsun to find the best structure for any project, whether on roof, on a wall, or on the ground.  Opsun designs the best structure for each project, adapting tilt, inter-row distance, elevation from the roof and module orientation to generate as much energy as possible.
"Our unique approach to racking design and manufacturing allows Opsun clients to save on project costs and generate more energy," says Francois Gilles-Gagnon, VP Operations with Opsun. "Our team manages and optimizes all aspect of the racking system, even for the most complex projects."
The Opsun Operation Centre is located in 25,000 sf of leased space at 3318 Second Street East in the Cornwall Business Park.
"We chose Cornwall due to its strategic location." says Mr. Gilles-Gagnon. "We have easy access to major transportation networks, allowing us to serve our customers efficiently."
Available Jobs
Available jobs at Opsun can be found the ChooseCornwall.ca Job Board
More Info 
More info on Opsun can be found on their website.