Osmow's Offers Modern Mediterranean Cuisine in Cornwall
December 2, 2021
Cornwall Ontario – Cornwall's east end has a decidingly more international flavour with the opening of Osmow's on Second Street East.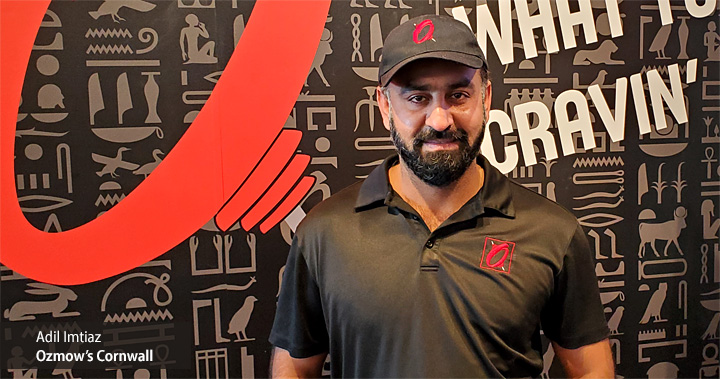 Osmow's is a popular quick service restaurant, specializing in Middle Eastern and Mediterranean cuisine such as fattoush salad, shawarmas, falafel and kofta.  The 1300 sq.ft. restaurant in Cornwall has indoor dining available as well as counter service.
"Business has been very busy and we are very happy with how we have been welcomed in Cornwall," says Adil Imtiaz, who manages the store for his brother Muddasar Imtiaz, who owns the Cornwall franchise. "It has been a blast introducing our meals to local residents and visitors."
Osmow's was founded by Sam Osmow, who opened his first restaurant in Streetsville, Ontario in 2001. A recent immigrant to Canada, Mr. Osmow saw an opportunity to bring his Egyptian roots to the Canadian landscape by blending traditional Egyptian cuisine balanced with a North American palate.  Today there are 120 Osmow's restaurants across Canada.
One of the more popular menu choices is shawarma & On the Rocks which is available in chicken, beef or lamb. It is one of the world's most popular forms of street food, believed to have been created in Turkey as early as the 18th century.
Shawarma is a tender, fragrant, boldly spiced and marinated meat that slowly cooks as it rotates on a vertical skewer. Once the marinated meat is delicately carved, it is grilled to caramelized perfection and then served on ROCKS (rice), STIX (fries) or classically wrapped in a thin pita bread that's then expertly grilled. Personalized with add-ons like fresh herbs and grilled vegetables, feta or house-made sauces especially means there are endless combinations of shawarma meals bursting with delicious flavours.
Osmow's is located at 1315 Second St East and is open 7 days a week from 11am to 11pm. The restaurant can be reached by phone at (613) 932-1786 or online at: