Perch Magazine Ushers in Summer with 6th Edition
June 28, 2021
Cornwall Ontario – Perch magazine is back with some amazing stories – and wonderful photographs – to celebrate life in Cornwall, Akwesasne and SDG.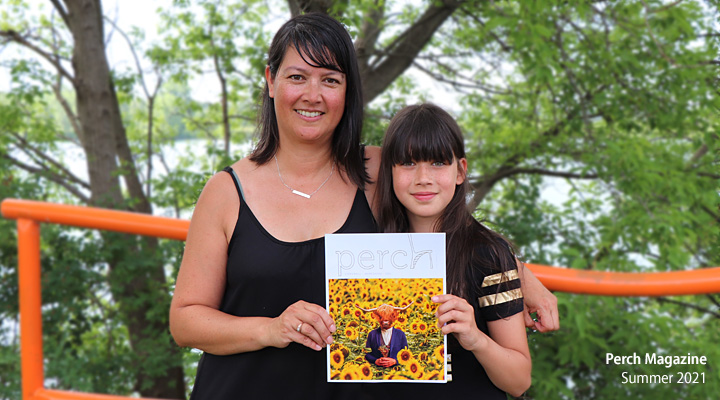 The sixth edition of the independent magazine is the biggest yet, and features 60 pages of stories about the people and places that makes this part of Eastern Ontario such an interesting place to live.
"We love to tell the stories of the people who live, work, and play in Cornwall, Akwesasne, and the SDG Counties—the artists, the designers, the foodies, the performers, the community leaders, and the business owners," said Chantal Tranchemontagne, Editor-In-Chief. "With Perch, we're doing our part to grow our region, spark conversation, establish deeper human connections, and encourage everyone to find inspiration around every corner.."
The 2021 edition is as diverse as the people who make up the region and includes a feature on Christina Enright, a butterfly conservationist and Angello Johnson, a young Mohawk basket maker, along with stories on the Port Lands and paddling on the St. Lawrence River.
"We – as individuals and as communities – have been living through a turbulent and transitional time," says Ms. Tranchemontagne. "We've all been reminded that change is inevitable. This issue of Perch makes the case that transition can be beautiful too."
Print copies of Perch are available at a number of area businesses including the Cornwall Civic Complex. Articles can also be found online:
About Big Catch Communications
Perch is published by Big Catch Communications, Cornwall's content marketing agency that uses business storytelling to turn facts into compelling connections with customers. You can connect with Big Catch Communications at: