Photographers Team Up To Open Downtown Studio
February 15, 2022
Cornwall Ontario  – Wherever Jason McNamara and Kendra Richard go, chances are a camera isn't far behind.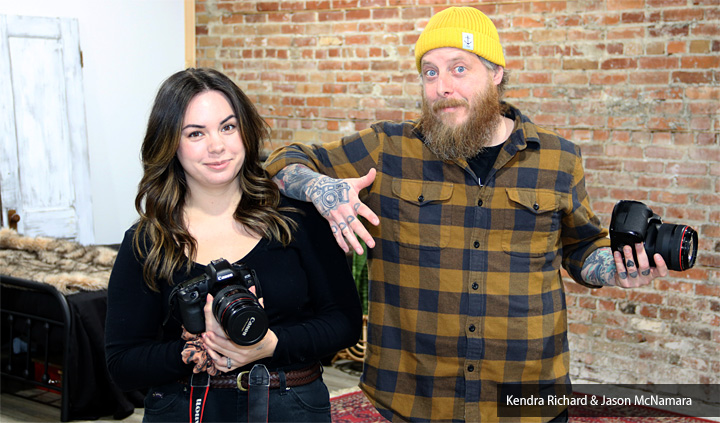 The local couple are both established photographers with their own devout following of clients and fans. Whether they're at home or on the job, photography is a constant presence, from bouncing ideas off one another to helping with a session or discussing each other's work.
That shared passion for photography has led the couple to open a shared studio in Downtown Cornwall – a natural evolution for Mr. McNamara's Framed Photography and Ms. Richard's Spilt Photography.
The newly-named Spilt & Framed Photography is located in a newly-renovated space at 150 B Pitt Street (right next to The Happy Popcorn Co.) with high ceilings and plenty of space for sets and backgrounds.
"It's a really versatile space," said Mr. McNamara. "It's great to be Downtown and close to the small business community. There are a lot of spin-offs and opportunities to work with neighbouring businesses and support one another."
The physical space also provides the couple with a guaranteed venue for clients who may prefer the indoors or to serve as a back up in cases when inclement weather spoils the opportunity for outdoor photoshoots.
"It definitely takes the stress off to know we have a space that's always available," added Ms. Richard. "It's a cool option to have and in some cases, clients may even prefer an indoor setting for weddings or other shoots."
With the new shared space, the duo also plans to share their talents as well for photoshoots. They're planning to offer enhanced family photo sessions where Ms. Richard would handle the photos and Mr. McNamara would produce a short video of the experience to go along with it.
"It's a way to create an extra memory for the family to take with them along with the photos and to make the experience more memorable," said Mr. McNamara. "The goal is to capture the family organically with both of us using our cameras."
Spilt Milk Photography's specialty is family and newborn photography while Framed Photography focuses primarily on commercial and branding photography. The couple also specialize in weddings and portraits.
"We have everything covered between the two of us," Mr. McNamara added.
Despite the pandemic, the couple said business has been brisk with many families opting to use the downtime to capture some tender family moments and create new memories during a challenging period.
"It's been really busy," Ms. Richard said. "I think people are booking for some sense of normalcy amid the pandemic."
Reservations are taken by appointment.
Renovations to the building at 150 Pitt were supported in part by the Heart of the Community Improvement Program.
For more information on Spilt Milk Photography, visit:
For more information on Framed Photography, visit: