Plan Your Trip to Cornwall with the 2019 Visitor Guide
March 4, 2019
Cornwall Ontario – Looking to visit Cornwall in the near future?  The 2019 Cornwall Visitor Guide is now available to help you find your way to the city's top restaurants, shops and accommodation providers.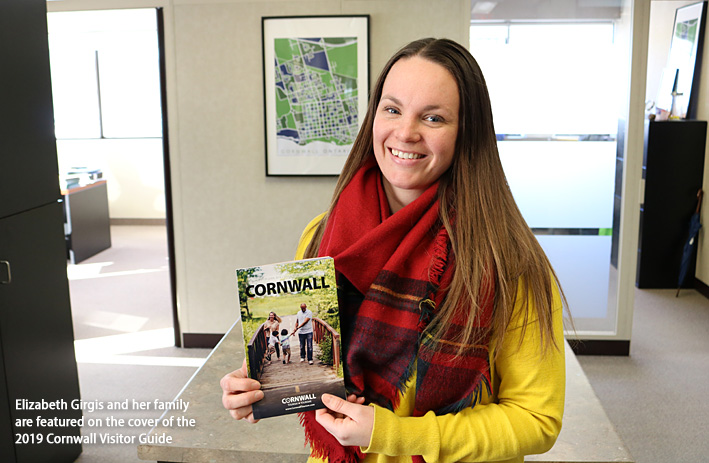 The 80 page bilingual publication also includes information on events and attractions along with tips on how to make your most of your visit.
"The new guide offers some great information along with fantastic photos that really showcase our community," says Kevin Lajoie, Tourism Coordinator with Cornwall Tourism. "We want people to be excited about visiting Cornwall and help them discover some of our best attractions."
The cover features a beautiful photograph of the Girgis family enjoying a stroll in Lamoureux Park along the St Lawrence River, taken by local photographer Jason McNamara.
Inside visitors will find a calendar of events which lists dozens of festivals, fairs and other special events in addition to providing information on attractions and activities. It also includes a complete listing of area hotels, motels, bed & breakfasts and campgrounds.
"We want our guide to represent the community when people encounter it at Ontario Travel Information Centres around the province," says Mr. Lajoie. "We put in a lot of effort in to the design of the book, and we were fortunate to be able to have access to some amazing images from local photographers."
The 2019 Visitor Guide uses a digest format that makes the book easy to carry and access. It was produced by Seaway News, and designed by Colleen Parette.
"We are happy to once again partner with Cornwall Tourism on this popular publication," says Rick Shaver, Publisher Seaway News/Cornwall Express. "We were pleased to see so many local companies support the Guide and see the value in servicing the needs of visitors."
A total of 40,000 copies of the Visitor Guide will be distributed before the end of the year, via brochure racks throughout the city, region and beyond. Local hotels will also have the Visitor Guide in each guest room. An online version of the Guide will also be available.
"Cornwall hosts tens of thousands of visitors each year, including families, sporting groups and business conferences," notes Mr. Lajoie. "The Visitor Guide can often be found in the hands of visitors as they choose how to spend their free time in the city."
The Guide will also be handed out a number of tourism trade shows this spring.
You can request a copy of the 2019 Visitor Guide via the Request Info page on this website.
About Cornwall Tourism
Cornwall Tourism is responsible for marketing Cornwall to attract new visitors. The office maintains a visitor information centre year-round at the Civic Complex. CornwallTourism.com is an online resource that provides current tourism news as well as a comprehensive calendar of events.
You can follow Cornwall Tourism online: