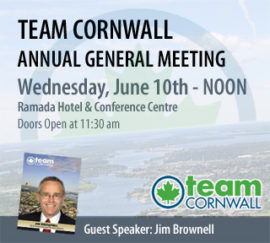 Plowing Match To Be Hot Topic At Team Cornwall AGM
May 25, 2015
Cornwall Ontario – With upwards of 75,000 people heading to Cornwall this year for the International Plowing Match, inviting Jim Brownell to be the guest speaker that Team Cornwall Annual General Meeting was an obvious choice.
The event takes place on Wednesday, June 10th at the Ramada Hotel & Conference Centre on Brookdale Avenue. The luncheon meeting will get underway at 12:00pm (Noon). Doors open at 11:30am for anybody who would like to network.
"The Plowing Match offers a great opportunity to showcase our City and region to an unprecedented number of visitors who will be here for a very short time," said Peter Gault, Team Cornwall Chair. "I am excited to hear how we can work together to maximize the economic impact of this event."
Jim Brownell is the keynote speaker at the event, and the longtime community leader has been working hard to prepare for the International Plowing Match, which will take place later September 22-26 in nearby Finch Ontario.
Mr. Brownell's presentation will provide an update on the efforts of his team of volunteers, who now number in the hundreds.  Mr. Brownell will also demonstrate how the local business community can get involved in welcoming the visitors, which includes attendees, judges and vendors.
Information Kiosks
In addition to the presentation by Mr. Brownell, meeting attendees will have a chance to visit information kiosks as well as a Team Cornwall apparel booth.
Annual General Meeting
This meeting will serve as Team Cornwall's Annual General Meeting. Lunch will be served at Noon, and the meeting will take place directly after the meal has been served. As in past years, the Board of Directors (Team Captains) will be elected and the organization's financial statements will be presented.
Open to All
The meeting is open to all – regardless of Team Cornwall membership.
Reserve Your Spot!
Tickets to the Team Cornwall Annual General Meeting are $15 each. To reserve a spot, please contact Julie Donkers at 613-933-0074 or jdonkers@cornwall.ca.
About Team Cornwall
Team Cornwall is a group of business people who have banded together to promote Cornwall to their business contacts around the world. Working closely with Cornwall Economic Development, the Chamber of Commerce and other local organizations, Team Cornwall members help spread the word about the considerable advantages of living and doing business in our hometown.
More information about the meeting and Team Cornwall can be found on the Team Cornwall website at www.TeamCornwall.com.