Popeyes Brings Cajun Chicken to Cornwall
October 27, 2021
Cornwall Ontario – Local chicken lovers can now "Love That Chicken from Popeyes" right here in Cornwall.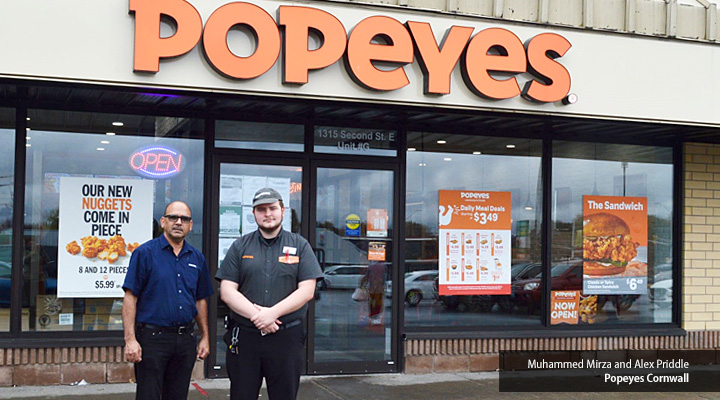 Popeyes Louisiana Kitchen has opened a 2400 sq.ft. new restaurant in Glengarry Square on Second Street East. The bright and vibrant family friendly location offers a large selection of signature fried chicken dishes, perfectly marinated for 12 hours in a special blend of Louisiana seasonings.  Currently open for takeout service, full-service dining will open up in the coming months with capacity of up to 40 people.
Store owner Muhammed Mirza is a veteran in the quick-service restaurant industry and originates from Toronto. He has over 20 years of experience and is a member of the larger AA Group of companies which have opened over 40 Popeyes across Ontario and Saskatchewan.
Unique to Popeyes, the chicken is hand-battered and breaded on-site, then slow cooked in Cajun and Creole flavours for a juicy and crispy finish. Now a worldwide success, fans of Popeyes's just can't get enough.
Mr. Mirza saw a demand for Popeyes when he recognized that Cornwall residents were travelling over 100km to other locations in order to enjoy the New Orleans-style fried chicken.
"We knew that it would be well received in Cornwall."
The core staff trained for several weeks in preparation for a busy opening period. Assisting with the opening were regional manager Faisan Khan, and branch managers Alex Priddle and Imran Yousf.
"We strive to treat every customer at this location with Cajun hospitality," said Mr. Priddle who was born and raised in Cornwall. "We have friendly staff members and want our customers to feel welcomed."
The restaurant offers 100% Canadian sourced ingredients and Mr. Mirza and is proud to point out that all Canadian locations have Halal certified chicken and batter so they can cater to the Muslim community.
Mr. Mirza recently bought a house in the city so that he can be available to help manage the Cornwall branch whilst maintaining his businesses in Toronto.
"Cornwall is a very beautiful city," says Mr. Mirza. "The people here are very humble and respectful and the feedback from customers has been excellent."
The very first Popeyes opened in New Orleans in 1972 and was named after after Popeye Doyle of The French Connection. The first Canadian franchise opened in Toronto in 1984. Despite pandemic times, recent expansion across Canada has been vast. In the last three years, 100 locations have opened in the Canadian market. There are currently over 260 Popeyes locations nationwide.
Popeyes Cornwall is planning to partner with popular food delivery services soon. In addition to their regular menu, customers can enjoy value from the daily specials on offer.
Popeyes Louisiana Kitchen is located at 1315 Second St East and is open 7 days a week Monday through Sunday from 11am to 11pm. The restaurant can be reached by phone at (613) 933-0500 or online at: