Pot of Gold opens in Downtown Cornwall
February 4, 2021
Cornwall Ontario – Downtown Cornwall has a vast array of culinary and retail treasures. Now it even has a Pot of Gold.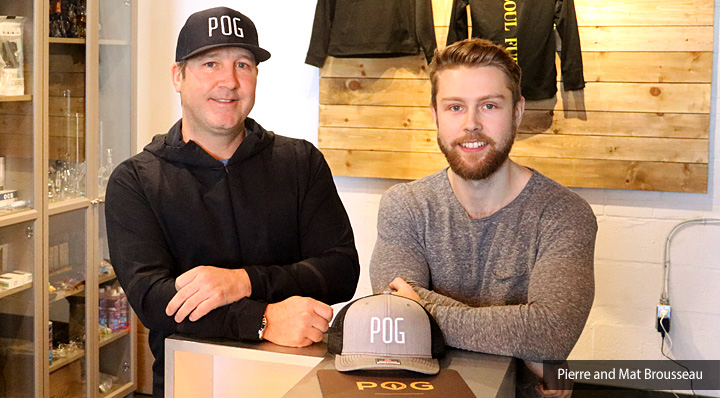 Cornwall's newest recreational cannabis store – Pot of Gold, or POG – recently opened its doors at 44 Pitt Street (behind Axxis Optical) and it holds the distinction of being the only drive-thru store in eastern Ontario.
Customers can drive through the laneway on the north side of the building and fulfill their purchase at a dedicated window without leaving the comfort of their vehicle.
"We had a busy first day and I'm surprised at how it's still growing in popularity," said POG owner Mat Brousseau of the convenient drive-thru service.
POG also offers curbside pickup with dedicated spaces in the spacious parking lot at the rear of the building. That will eventually be followed by in-store purchases (once Covid-19 regulations change) inside a trendy new space in what was once the pressroom of the Standard-Freeholder.
It's a family-run business with father Pierre also holding the owner title and helping his son Mat from the sidelines. Pierre opened Axxis Optical 25 years ago and moved the business into the former Freeholder building in 2010. He continues to be excited by the positive changes in the Downtown – and to be a part of them.
"I'm a big believer in Downtown Cornwall. There's a lot of potential for the future," he said.
The business represents a $300,000 investment when factoring in everything from filing the initial application in 2019 to the opening of the doors this week. There are five employees currently working for POG and the business has a strong local-first philosophy.
"We used local (businesses) throughout the business," the elder Brousseau added.
The cannabis retailer has an extensive range of products including vaporizers, edibles, drinks, topicals and accessories from some of the industry's biggest names.
"We have an experienced and knowledgeable team who take pride in dealing with our customers to provide awareness about the products and their safe usage," added Mat.
Additional information
POG is open Monday to Saturday from 11 am to 9 pm and Sunday from 11 am to 3 pm. For additional information or to browse their products, visit POG online: