Program Helps Youth Find Employment
May 18, 2023
Cornwall Ontario – Looking to take that next step and jump start your career?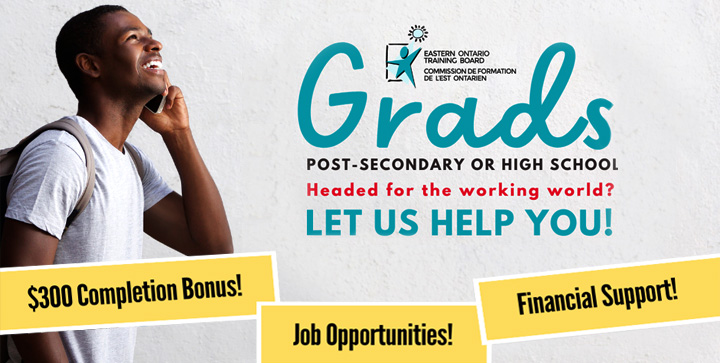 A new program is available to help you prepare for your next step, offering coaching, certifications and connections with local employers. And as an added bonus, you could be eligible for a cash bonus if you complete the program.
"If college or university is not in your immediate plans, then you should give us a call," says Justine Viray-Levac, Assistant Coordinator with the Eastern Ontario Training Board. "Alternatively, if you have graduated from College or University and are now back home and looking for a job in your field, get in touch with us! We are looking to connect students with employment opportunities. There are a lot of great reasons to stay in the area and start building a career."
The Youth Employment Program is open to local residents who are between the ages of 17 and 30. This includes high school grads who are not pursuing post-secondary education and need a job; and post-secondary grads who went away for school, but are now back in Cornwall/SDGPR, and trying to find a job in their field of study.
About the Youth Employment Program
The Youth Employment Program is offered by the Eastern Ontario Training Board and can assist with:
Resume upgrading/building
1:1 coaching
Certifications
Financial supports: counseling, transportation, childcare, work attire
Job developers connection with various employers in all sectors
$300 bonus completion!
You learn more on the EOTB website:
Interested candidates should call Job Zone d'emploi at 613-933-9675, GIAG at 613-525-1533 or Akwesasne Career &  Employment Support Services at 613-575-2626.
Jobs in Cornwall
There are a variety of jobs in Cornwall. You can view current job postings here:
About the Eastern Ontario Training Board
The Eastern Ontario Training Board (EOTB) plays a leading role in labour force development in the Cornwall region. It undertakes a number of projects throughout the year, and publishes the TOP report on local labour force issues. More info can be found online: