Quest Strongman Lifts Up Cornwall this Saturday
August 17, 2018
Cornwall Ontario –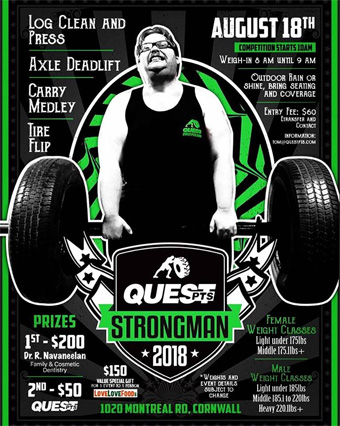 Weightlifters from Cornwall and beyond will compete to determine this year's strongest champions at the Quest PTS Strongman competition this Saturday.
The action all goes down at the Quest gym site at 1020 Montreal Road in Cornwall's east end. The competition is open to the public and gets underway at 10am. Admission for spectators is free and people are encouraged to bring their own chairs and cover from the sun/rain.
"This is a great spectator event," says Tom Irvine, Personal Training Specialist at Quest PTS. "You are close to the action and you can really tell just how difficult the challenges are."
The competitors at this year's event will be tested in four different categories that evaluate each lifter's explosiveness and strength. This year's activities include some exciting new tasks:
• Log Clean and Press
• Axle Deadlift
• Carry Medley
• Tire Flip
"The competitors love the variety we offer each year in terms of events," says Mr. Irvine. "We offer cash rewards that most other competitions do not offer."
Last year's event saw over 40 competitors, with lifters coming from Toronto, Ottawa, Montreal and the USA. Similar numbers are expected at this year's competition. Weigh-in begins at 8am and continues until 9am. There is a $60 competition entry fee for athletes.
Competitors are divided by gender and weight:
Men
Heavyweight (220 lbs above)
Middleweight (185-220 lbs)
Lightweight (below 185 lbs)
Ladies
Middleweight (175 lbs and above)
Lightweight (below 175 lbs)
The event focuses on encouraging all athletes competing, even those not from Cornwall.
"The theme is to turn the event into a strong competition but work as a family to encourage one another," says Mr. Irvine.
About Quest
Quest Strength Training Gym and Massage Therapy offers the equipment and environment to provide optimal results for athletes, weekend warriors, and the regular person looking to improve health and wellness. Tom Irvine is one of the most sought after strength and conditioning coaches in the health and fitness industry, and his wife Jessica is a registered massage therapist.
For more information please visit: