RAYJANS Opens New Building in the Cornwall Business Park
June 16, 2023
Cornwall Ontario – One of Cornwall's more progressive corporate brands is a little bit shinier with the completion of a major addition to their landmark facility in the Cornwall Business Park.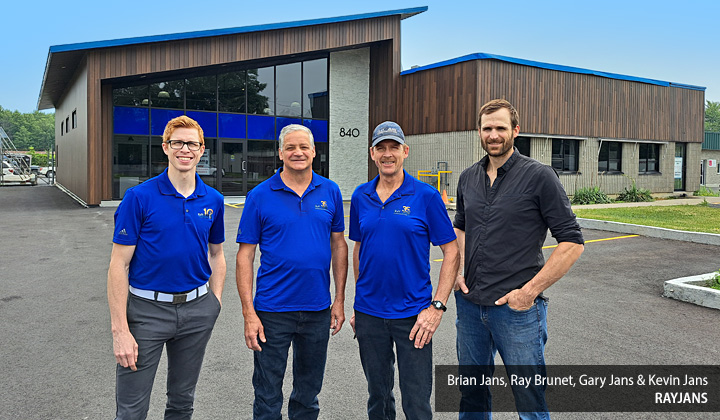 RAYJANS Windows and Doors has officially opened their new showroom at 840 Campbell Street. The striking new building features a two-story glass façade, while the exterior walls are Fox Block ICF and the addition sits on a Legalett engineered, heated slab.
"The new building gives us extra room to accommodate both our existing business and future growth," says Gary Jans, co-owner with his partner Ray Brunet. "Our new showroom allows us to properly display our complete lineup of residential windows and doors, Sunspace Sunrooms and more."
As part of the redevelopment of the site, the original showroom has been transformed into an expanded fabrication shop space. In 2021, RAYJANS Windows and Doors expanded into the commercial glass industry. RAYJANS Glass can accommodate all types of commercial glass projects such as store fronts, office buildings and even custom shower glass. The RAYJANS Construction office, which had occupied a space in the building, will be relocated to new offices at 3050 Pitt Street.
"Cornwall is poised for significant growth," says Ray Brunet. "RAYJANS has been proud to have played a role in building the city to this stage, and we plan to be around to help build the future."
The RAYJANS brand is in good hands for the foreseeable future. Brian Jans and Kevin Jans are set to take over the operation of RAYJANS Windows and Doors and RAYJANS Construction respectively.
About RAYJANS
RAYJANS Construction was founded in the mid 1980s by long-time business partners Ray Brunet and Gary Jans. They quickly built a solid reputation with successful construction projects throughout Eastern Ontario in the both the residential and commercial sectors.
In 2011, the partners opened RAYJANS Window and Doors, eventually opening a satellite office in Casselman. In 2019 the partners opened up Cornwall Storage Box to meet the storage needs of local residents. In 2021, a second location at 3050 Pitt Street was acquired to allow expansion of the mini-storage business. This commercial site also houses three local businesses: Pat Caron Heating and Cooling, The Trophy Shop and Sky Fitness Studios.