Renegade Bass Tour Drops Anchor in Cornwall
July 18, 2019
Cornwall Ontario – The Cornwall area's world-class fishing will be in the spotlight this weekend when the Renegade Bass Tour touches down at Marina 200.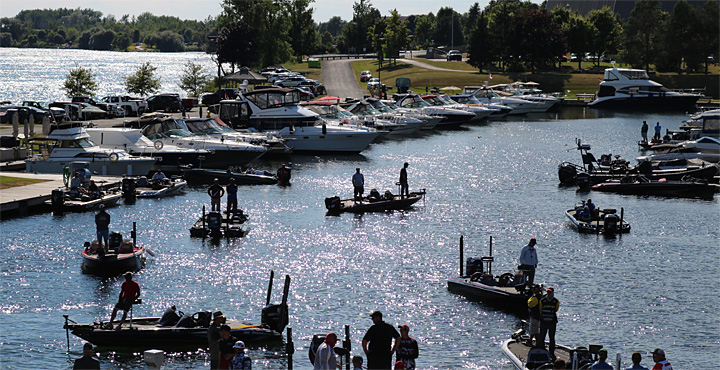 One of five stops on the tour this year, the Cornwall qualifier will see 82 teams of anglers – in pairs – vying for top honours on Saturday, July 20th. The experienced teams will be coming from across eastern Ontario as well as Quebec and the Toronto-area.
The anglers will take off at 7 am in search of trophy-worthy fish on the St. Lawrence and Lake St. Francis, a stretch of water that holds tonnes of potential – and big fish.
"The St. Lawrence River in general is amazing for fishing," said Mike Vandenberg, President of the Renegade Bass Tour.
The tournament wraps up with a weigh-in at 4 pm on the east lawn of Marina 200 and members of the public are welcome to attend and watch as the fish are weighed in on the stage and the winners are crowned. There will also be free items for the children.
"We definitely try and build it up and make it entertaining," said Mr. Vandenberg. "It's always a fun time."
The benefits of the event stem well beyond the one-day qualifier. Many of the teams arrive early and spend a couple of the days in the area pre-fishing in the lead up to the event, providing significant spin-offs in the form of accommodations, food, fuel and other purchases.
The winning team will be crowned based on the combined weight of their five biggest bass catches.
The Cornwall stop is the third on the tour, with the last qualifier being held in Morrisburg on August 10th. The top 40 teams from the four qualifying events will earn the chance to compete in the Renegade Bass Tour Classic championship on September 7th and 8th.
About the Renegade Bass Tour
Renegade Bass Tour is the most competitive team tournament series in Canada with a commitment to advocacy, youth programs, angler education and more. For more information on the Renegade Bass Tour qualifier, please visit their website or check them out on Facebook.
One of the World's Best Places to Fish
Fishing on the St. Lawrence River is truly an angler's paradise. The day's catch can include everything from bass and muskie to walleye and carp, along with many other species. That, together with the Cornwall's inviting waterfront and easy-to-use boat launches, makes Cornwall an attractive place for recreational boaters and tournament anglers alike. It's these factors and others that prompted Expedia.ca to recently name Cornwall one of the best places to fish in Canada!
Related: Cornwall named one of best places to fish in Canada