Renowned Canadian Economist to Speak in Cornwall
October 11, 2019
Cornwall Ontario – Economist David Campbell will be in Cornwall at the end of this month to give an enlightening talk on the most effective population growth strategies for Eastern Ontario.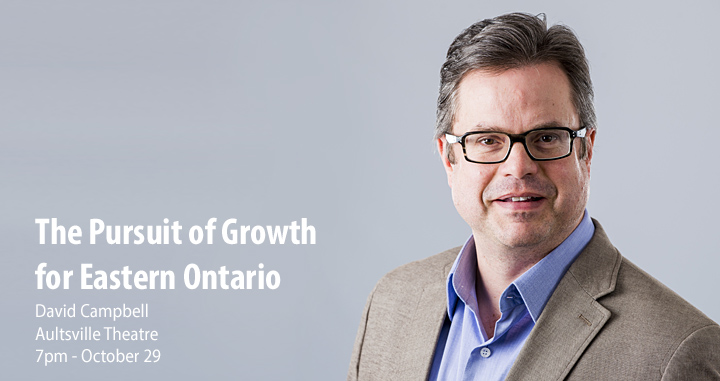 A former Chief Economist with the New Brunswick Jobs Board Secretariat, Mr. Campbell will speak on October 29, 2019 at Aultsville Theatre. His commentary is expected to be of interest to business leaders, educators, policymakers, non-government organizations, and anybody interested in the topics of demographics, economic development, and community growth.
Mr. Campbell has more than 25 years of experience in economic-development-related roles working with industry, not-for-profit organizations and governments across Canada. Progress Magazine recently named him one of the foremost economic development thinkers in Atlantic Canada.
"On behalf of my colleagues, Warden Jamie MacDonald and Grand Chief, Abram Benedict I am very excited to welcome Mr. Campbell to Cornwall. Along with St. Lawrence College, we extend our personal invitation to communities in Eastern Ontario to attend," said Mayor Bernadette Clement. "Our region has so much to offer new residents in terms of employment and a fantastic quality of life."
Mr. Campbell was invited to Eastern Ontario by Pat Finucan, former executive director of the St. Lawrence College Cornwall campus, as well as an informal group made up of representatives from the City of Cornwall, the SDG Counties, Akwesasne Mohawk Council, the Eastern Ontario Training Board, Cornwall Innovation Centre, and Big Catch Communications.
"Attracting new residents to our region is one of our most important issues," says Mr. Finucan. "We're excited to welcome Mr. Campbell and hope to build on the ideas he presents to ensure we make the right moves toward balanced growth in this part of Eastern Ontario."
The event is free and open to the public, however attendees are asked to register in advance: