Ren's Pets Opens New Store at Brookdale and Tollgate
July 4, 2023
Cornwall Ontario – Tails are wagging in Cornwall with the opening of Ren's Pets at Brookdale and Tollgate.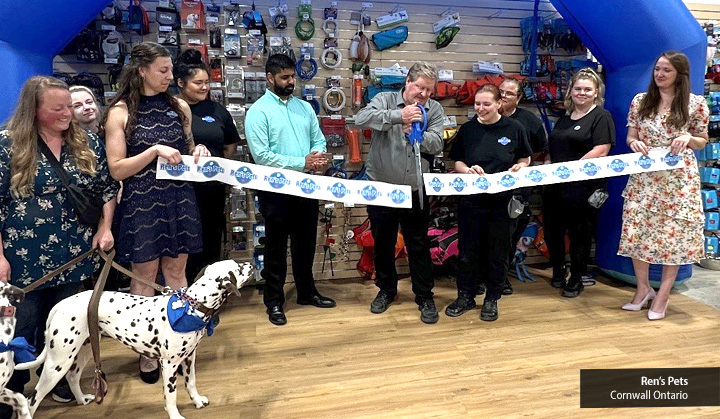 Ren's is a Canadian owned and operated specialty pet retailer, known for their premium pet food, treats, and toys.
"I'd really like to thank the amazing pet community in Cornwall for the warm welcome," said Scott Arsenault, CEO at Ren's Pets. "They came out to support our opening with their pets and we had a very successful first weekend. We met a ton of passionate pet parents that visited us to browse our high-quality selection of pet foods including our raw freezers, meet our knowledgeable staff, use our in-store scale to weigh their pets, and let their pets pick out a new toy in our new bright store."
The new 6650 sq. ft. store is the company's 52nd location, and seventh new store opening this year.
"It was such a great grand opening event," continued Mr. Arsenault. "We opened a Ren's location in Brockville earlier this year, and we knew that Cornwall would have the same sort of excitement and positive response."
The Cornwall store features over 8,000 products with aisles of high-quality dog and cat food, displays of treats and toys, plus a special grooming section. There is 32 feet of large walk-in freezers for raw & frozen pet food. Customers can shop in store, order online for pick up at store, use same-day delivery powered by DoorDash, or ship to home. Customers can also find Ren's Cornwall on the Flashfood app.
"On behalf of the City of Cornwall, it is my pleasure to welcome Ren's Pets to our community," said Mayor Justin Towndale, who was on hand for the store's grand opening celebration. "We are excited to see continued growth in our business sector and I would invite prospective investors to see why Cornwall is a great place to invest."
Ren's Pets is located at 501 Tollgate Road, in the Villarboit Plaza with Michaels, Best Buy and Mark's.
"You can receive $20 to shop in the new Cornwall store if you sign up to be a Ren's Rewards member- that also let's your pet receive a free treat on their birthday," said Larissa Wasyliw, VP of Ecommerce & Marketing at Ren's Pets. "We think pet parents in Cornwall will love this new Ren's location, and what we have to offer for your pet's best life."
About Ren's Pets
Ren's Pets is a leading Canadian specialty retailer with 52 stores (and growing!) in Ontario and the Maritimes plus a best-in-class ecommerce site shipping nationally. The company was founded in 1975 and is headquartered in Guelph, Ontario. The Ren's Promise guarantees knowledgeable staff will help you find the best food for your pet and rhe Ren's Reward program lets you earn free food and redeem points online or in-store.
Click here to get $20 to shop at the new Cornwall store, when joining Ren's Rewards: https://www.renspets.com/pages/cornwall-grand-opening