Rent a Bike and Explore Cornwall's Riverside Trail
June 28, 2022
Cornwall Ontario – Bike rentals are back at Marina 200 for the summer season.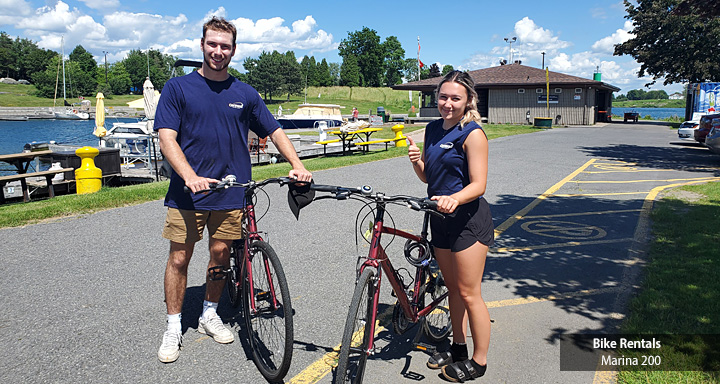 Residents and visitors alike can rent a bike and embark on a day of adventure along Cornwall's Riverside Trail, the popular cycling trail that extends the entire length of the city's waterfront. The central location of Marina 200 – nestled along the waterfront just east of the Cornwall Civic Complex – makes it a perfect venue to park and get rolling.
"This is the third season that we've offered bike rentals at the marina and it continues to grow in popularity," said Tim McNally, Marina and Events Coordinator. "We see a mix of local residents as well as visitors from other parts of Ontario and Quebec."
The Riverside Trail is one of Cornwall's most popular summer attractions, and for good reason. Part of the larger Waterfront Trail network that extends across Ontario, the Riverside Trail stretches over 40 kilometres from Cornwall all the way to Upper Canada Village, with countless attractions, outdoor spaces and landmarks to enjoy along the way.
"We meet a lot of cycle tourists throughout the summer and fall and they often mention how impressed they are with the quality and beauty of our cycling trails," said Kevin Lajoie, Tourism Officer. "The bike rental service at Marina 200 makes it even more convenient for visitors to enjoy our great waterfront cycling opportunities."
Bike Rental Info
Bicycle rentals are available daily from 8 am to 6 pm and each rental includes a helmet, lock and a map of local cycling trails. Bicycles can be rented out on an hourly basis ($10), four hours ($25) or for a full day ($35).
Bikes can be rented on arrival or they can also be booked in advance by calling 613-932-8301. Participants are encouraged to call in advance to ensure availability.
The bike rental service runs until October 1st.
About Lamoureux Park and Cornwall's Riverside Trail
Lamoureux Park sits just south of Downtown Cornwall and offers amazing amazing views of the St. Lawrence River.  The Park is home to the Marina 200, Cornwall Community Museum, the Lions Club Bandshell and a variety of other amenities. The Riverside Trail is a dedicated multi-use trail that spans the entire waterfront in Cornwall – completely off-road and traffic free. Free parking is available at the Civic Complex.
Additional Tourism Info
Cornwall Tourism maintains a visitor information centre year-round at the Civic Complex and publishes the popular Cornwall Visitor Guide. CornwallTourism.com is an online resource that provides current tourism news as well as a comprehensive calendar of events. Check out the Cycling Page for maps and information on park and ride options, Cycle and Stay packages and more!You can follow Cornwall Tourism online: