Report Provides Groundwork for Improving Support to Farm and Food Sector
February 23, 2019
Cornwall Ontario – Food is the backbone of our region, our province and our country. It is what binds our country together. Agriculture, food and beverage processing, retail, and restaurants remain important drivers for economic and community development across the region.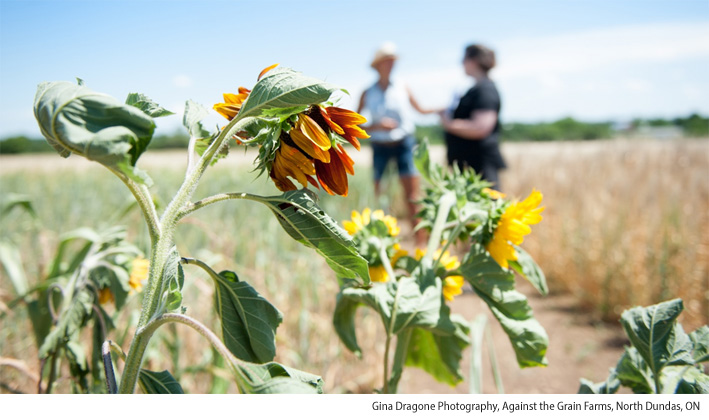 A new report lays the groundwork for developing better support to local farm and food businesses, addressing gaps along the agri-food value chain, and promoting food literacy and culinary tourism across the region. The report was released by this week by the Cornwall, Stormont, Dundas and Glengarry, and Akwesasne Food and Agricultural Advisory Council (FAAC) and can be accessed here:
The FAAC was established in June 2017 as a short-term initiative under the All Things Food (ATF) and Social Development Council umbrella to investigate opportunities for strengthening our local food economy and community. Initial funding for the work was secured through the Eastern Ontario Development Fund with leveraged contributions from several community partners.
"The FAAC stems from years of work, research, and partner recommendations from the ATF network and community partners," says Carilyne Hébert, Executive Director for the Social Development Council. "We were very excited to incubate the project and see it develop into an incredible strategic working group for our community."
Over an 18-month project time frame, the FAAC connected with a diverse group of local stakeholders employed in the food production and processing, retail and hospitality, and tourism. The work included organized focus groups, pilot projects, educational certification seminars, and networking events centred on food sector priorities for the region.
Some unexpected highlights from the project include the Sprouting New Connections workshop series, the arranged visit of Mr. Jim Kelly, Ambassador of Ireland to Canada last September, the first regionally hosted Ontario Culinary Tourism Alliance networking event in October, and a new partnership with Agri-East Lowlands which aims to advance agri-technology, tourism, and education in Eastern Ontario.
"I attended several of the events hosted by FAAC and was impressed with the excellent guest speakers, general organization, and professional atmosphere," says Tamara Lang of Langview Farms. "This project has made great headway for the region by helping our area make strides into emerging markets. I look forward to seeing the FAAC fulfill its future goals."
Having synthesized a list of recommendations, the FAAC is now seeking new membership, sustainable leadership, and the necessary funds to begin work. Several presentations to municipal councils, businesses, and community partners have been scheduled in upcoming weeks, with the primary goal of establishing a permanent Food and Agriculture Advisory Council for this region. Those looking to get involved are encouraged to connect with Carilyne Hébert, Executive Director for the Social Development Council, at 613-930-0211.
About the Social Development Council
Social Development Council of Cornwall and Area was formed in 2006 to build and strengthen the local communities. Its mission focuses on the social and economic impact on individuals, families and communities at large.