Ribfest Returns to Cornwall July 21-24
July 21, 2022
Cornwall Ontario –  BBQ ribs, chicken and other summer fair delights return to Cornwall's waterfront with the arrival of Ribfest – one of the summer's most popular festivals. Ribfest 2022 takes place in Lamoureux Park starting Thursday, July 21th and continues on until Sunday, July 24th – offering four full days of fun!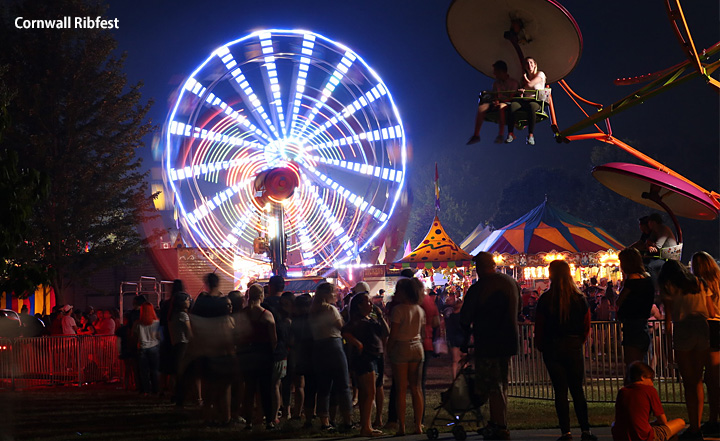 Once again ribbers from across North America will compete for awards voted on by their customers. Participating ribbers this year include Ribs Royale, Mississippi Smoke House, Crabby's and Fat Boys.
2022 is the 10th anniversary of Cornwall Ribfest. Each year, the Optimist Club raised tens of thousands of dollars for community causes, and once again the volunteer group has planned a wide array of activities that include live entertainment, beer garden, midway rides, vendors, and a kids zone. There is something for everyone, and the best part is that admission to the festival is free!
There is ample free parking at the Cornwall Civic Complex or Cornwall Community Museum on Water Street, just steps from Lamoureux Park. There is also nearby on- and off-street parking available in Downtown Cornwall.
Dates and Times
Ribfest starts at 11 am on Thursday, July 21, Friday, July 22 and Saturday, July 23 and Sunday, July 24. The event is held in beautiful Lamoureux Park along the St. Lawrence River in Downtown Cornwall.
Midway
The Midway kicks off at 4:30pm on Thursday. Tickets can be purchased for $30 in advance, or $40 on site and offer unlimited rides.
Entertainment
There's a great lineup of music to suit all tastes! Sass Jordan headlines the festival, taking the stage Saturday evening to rock Cornwall's waterfront. Each day has an impressive lineup of local bands.
More Info
To get the latest news and updates on Ribfest, make sure to follow their Facebook page or check out their website, www.CornwallRibfest.com.
There's lots of other fun events going on in Cornwall this summer. Find out about these and other events by visiting the Cornwall Tourism Visitor Information Kiosk in at the Civic Complex, or by checking out the Cornwall Tourism Events Calendar!