River Institute Receives $100,000 Grant from RBC Foundaton
July 4, 2020
Cornwall Ontario – The River Institute has been awarded a 2-year grant of $100,000 from the RBC Tech for Nature Fund to support the Great River Rapport project.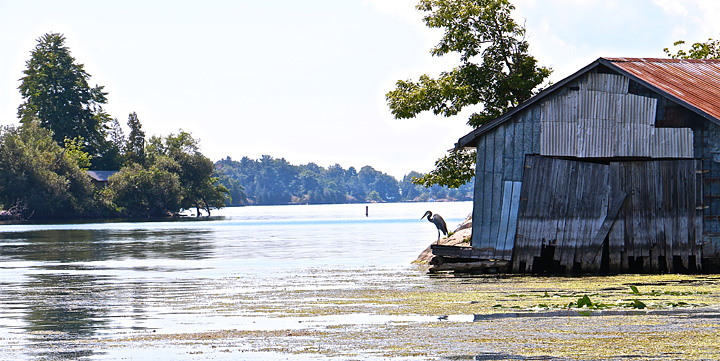 The Great River Rapport is a science-based project to assess the status and health of the Upper St. Lawrence River. This multi-partner project combines scientific data with technology, apps, and other online tools to motivate people to learn and get involved in ecosystem health. Inspired by the Haudenosaunee Thanksgiving Address, the Great River Rapport relies on a strong partnership with the Mohawk Council of Akwesasne to guide its development. Over the next 2 two years, the River Institute will work with Indigenous partners, scientists, educators, communities, and students to share important information about the river through stories, art, educational programs, and community engagement.
"Over 1000 people have participated in the Great River Rapport so far," says Dr. Leigh McGaughey, the lead scientist for the Great River Rapport project. "Scientists are working hard to identify the ecological indicators that represent the health of the ecosystem, and we look forward to the next phase as we merge river stories with science, and use new technologies to keep students and communities involved."
The Great River Rapport will provide information on trends of ecosystem indicators as they respond to pressures like invasive species and climate change. This will help guide future research, rehabilitation and restoration efforts. The project also offers opportunities for people to engage via technology or volunteer directly via Citizen Science programs. Learn more about the Great River Rapport here: https://www.riverinstitute.ca/riverrapport/.
"RBC is committed to investing in the health and well-being of our communities. It's a responsibility we share with community leaders, citizens and local organizations like the River Institute", said Marjolaine Hudon, Regional President, Personal and Commercial Banking at RBC. "That's why it's so exciting to partner with River Institute, the Mohawk Council of Akwesasne, along with many experts and local leaders on the Great River Rapport, which will assess the health of the beautiful Upper St-Lawrence River."
RBC Foundation through RBC Tech for Nature supports initiatives tackling the pressing environmental challenges of our times by leveraging technology, developing innovative solutions and building multi-sector partnerships.
About the River Institute
The River Institute was established in 1994 as a unique community partnership involving the City of Cornwall, government, education, business and industry, and the Mohawks of Akwesasne. Its mandate is environmental research and education with a focus on the Great Lakes / St. Lawrence River ecosystem. As a non-profit charitable organization, the River Institute raises its own funds for all essential costs, including salaries, administration, overhead, and operations. Grants, sponsorships, and donations provide specific funding for research and special projects, together with unrestricted contributions from individual donors and River Champions.