River Institute Receives 2023 Vallentyne Award
May 15, 2023
Cornwall Ontario – The River Institute has been recognized with the John R (Jack) Vallentyne Award from the International Association of Great Lakes Research (IAGLR).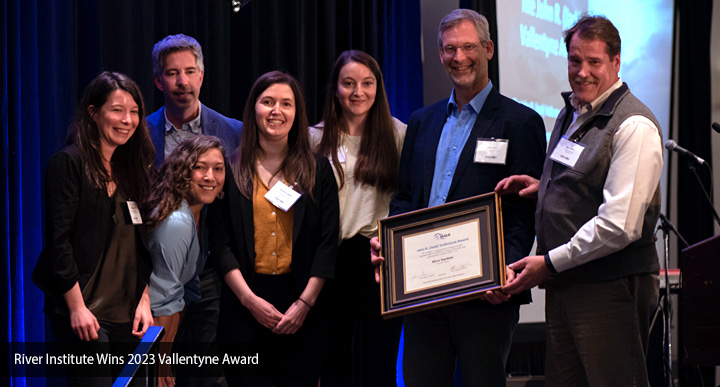 The Vallentyne Award celebrates important and sustained efforts to inform and educate the public and policymakers on large lakes issues, thereby raising awareness and support for their protection and restoration. Established in 2008, the inaugural award was given posthumously to its namesake, long-time IAGLR member and environmental scientist and educator, John R. (Jack) Vallentyne (a.k.a. "Johnny Biosphere").
This year, the River Institute was chosen for its valuable education and outreach efforts that engage and excite researchers, communities, and educators about many aspects of the St. Lawrence River and the Great Lakes. The River Institute is the first ever organization to receive the Vallentyne Award, all previous winners were individuals.
"The River Institute is a model within the Great Lakes basin, bridging science and knowledge shared by local communities," said Jérôme Marty, Executive Director of IAGLR. "The St. Lawrence River Institute team do science with their hearts, like Jack Vallentyne did when he was visiting schools to share about water protection. IAGLR is thrilled to add the River Institute to the list of prestigious recipients of the Jack Vallentyne Award for 2023."
The Award was presented to the River Institute by Dr. Paul Sibley, Co-Chair of the IAGLR Communications and Outreach Committee, at IAGLR's 66th Annual Conference on Great Lakes Research held in Toronto, Ontario.
"It is always special to be recognized by your peers. We are both very surprised and delighted to be named the winners of the 2023 Vallentyne Award," Jeff Ridal, Executive Director of the River Institute, expressed appreciation, saying The work recognized by the Award represents almost 30 years of effort by many people, including current and past staff, volunteers, our Board of Directors and, of course, our partners and collaborators over the years including the Mohawk Council of Akwesasne Environment Program."
A team of six River Institute scientists and science communicators attended the conference to present on River Institute research, education, and outreach initiatives, including recent monitoring work related to the Cornwall Sediment Strategy, environmental education resources, and the new River Strategy initiative.
About the River Institute
The River Institute was established in 1994 as a unique community partnership involving the City of Cornwall, the Mohawks of Akwesasne, government, education, business, and industry. Its mandate is environmental research and education with a focus on the Great Lakes / St. Lawrence River ecosystem. The River Institute is a non-governmental, charitable organization and works in partnership with a wide variety of individuals, groups, agencies, and communities to fulfill its environmental mission.
Categorised in: Business, Community, Environment, General, News