River Institute Recognized by the Canadian Museum of Nature
November 16, 2022
Cornwall Ontario – The work of Cornwall's River Institute has been recognized by the Canadian Museum of Nature, which named the world renowned research and education organization a finalist of the 2022 Nature Inspiration Awards.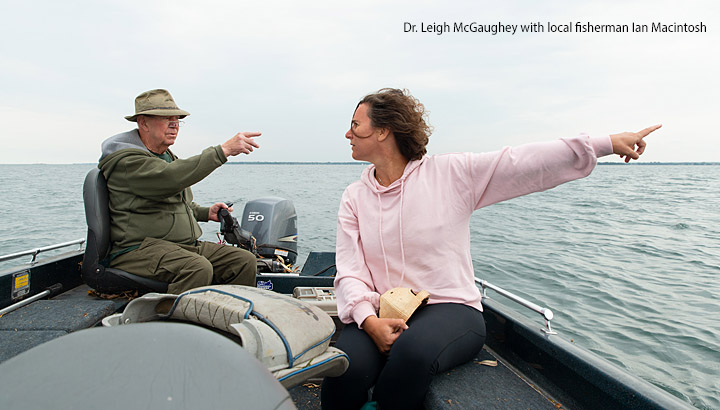 The Nature Inspiration Awards, now in their ninth year, recognize individuals, businesses, and not-for-profits that show leadership, innovation and creative approaches to sustainability in order to connect Canadians with nature and the natural world. In the Community Action category, the River Institute was recognized for the Great River Rapport, a science-based project that engages communities in assessments of the health of the Upper St. Lawrence River which is being carried out in partnership with the Mohawk Council of Akwesasne.
"What an honour to be considered for this award – we are very excited to be recognized by the Canadian Museum of Nature," stated Dr. Leigh McGaughey, lead scientist for the Great River Rapport project. "Our team at the River Institute, together with many collaborative partners and volunteers, continue to work hard to interpret the science and express results in ways that engage communities along the Upper St. Lawrence River."
To date, more than 2500 people have contributed to the Great River Rapport through data collection and scientific review, community workshops, and educational programs. River Institute scientists are conducting an in-depth scientific evaluation of 35 ecological indicators to provide a detailed report of health trends and research needs related to the Upper St. Lawrence River. At the same time, the Great River Rapport offers opportunities for people to learn about the health of the ecosystem through stories, Indigenous Knowledge, educational programs, and art. An interactive website provides links to all aspects of the project.
"At a time when our planet and society as a whole is confronting challenges from climate change and biodiversity loss, it's inspiring to recognise the diverse ways that Canadians are connecting us with the importance of nature in our lives," says Dr. Danika Goosney, President and CEO of the Canadian Museum of Nature. "Whether the impacts of their efforts are local, regional or national, all of these innovative projects remind us of the need to live in balance with nature and work towards a sustainable future."
About the River Institute
The River Institute is located on the banks of the St. Lawrence River in Cornwall Ontario. It was established in 1994 as a unique community partnership involving the City of Cornwall, government, education, business and industry, and the Mohawks of Akwesasne. Its mandate is environmental research and education with a focus on the Great Lakes / St. Lawrence River ecosystem. As a non-profit charitable organization, the River Institute raises its own funds for all essential operating costs. Grants, sponsorships, and donations provide specific funding for research and special projects, together with unrestricted contributions from individual donors and River Champions.
Related Articles