River Symposium to Examine Water Levels and Wetlands
May 16, 2019
Cornwall Ontario – With one of the dampest springs on record leading to record flooding, how watersheds work is a very topical issue, and the subject of the River Institute's annual River Symposium on May 29 and 30.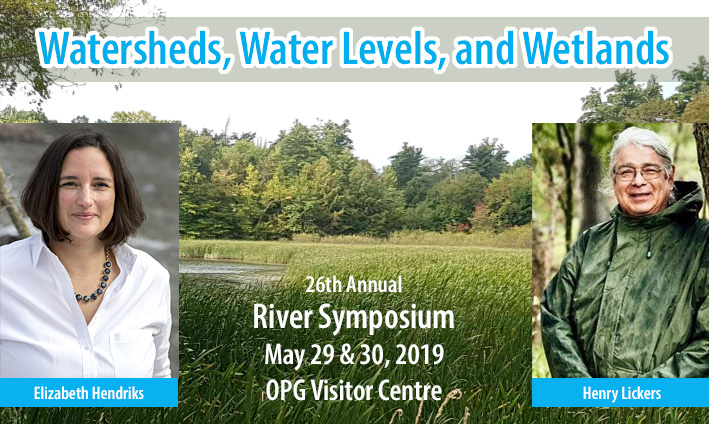 The title of this year's symposium is Watersheds: Water Levels & Wetlands and the two day event will once again feature presentations centred on ecological research and discussion centred on ways to interact with our natural environment. The symposium will be held at the OPG Visitor Centre.
"The Symposium serves as a great opportunity to learn more about rivers and wetlands and the impacts of various stressors on these systems," says Dr. Jeff Ridal, Executive Director of the River Institute. "Whether you are a resident of Cornwall, a student, journalist or an environmental activist, this event provides an opportunity for everyone to learn, share and discuss ways to address the many challenges facing rivers and wetlands over the two days."
Wednesday May 29 is a designated community science day, and the pubic is invited to experience hands-on exhibits and meet environment groups. Guest speaker Elizabeth Hendriks will deliver the keynote presentation in the morning followed by a special workshop on data science in the afternoon. Ms. Hendriks is Vice-President of the National Freshwater Programme at World Wildlife Fund Canada, one of Canada's oldest conservation organizations. She has fifteen years of experience working internationally on water policy and last year led the release of the first national assessment of the health and stressors of Canada's freshwater. With her team she is now working to reverse the decline of freshwater ecosystems across the country with the intersection of policy, technology, and community building. There is no charge to attend her presentation.
Registration is required for the second day, which will feature a panel discussion on shoreline erosion, a presentation on water levels by Matt Windle and a number of concurrent sessions. Dr. Henry Lickers from Akwesasne will deliver the keynote presentation.
The symposium series began in 1993 (one year before River Institute was founded) as a means to bring scientists and communities together to discuss freshwater issues.
Registration
To register, or for additional information about the Symposium, please call (613) 936-6620 or click on the following link:
About the River Institute
The River Institute is a non-profit, charitable research centre located in Cornwall, Ontario, Canada. Its mandate is research, education and community action relating to large river systems, with a focus on the St. Lawrence River ecosystem. A non-governmental organization, the River Institute works in partnership with a wide variety of individuals, groups, agencies and communities to fulfill its environmental mission.
Categorised in: Business, Community, Environment, General, News