Riverdale Terrace Opens Expanded Residence
September 3, 2020
Cornwall Ontario – Construction of a major expansion of Riverdale Terrace is now complete, with new residents now enjoying views overlooking the St. Lawrence River in Cornwall's west end.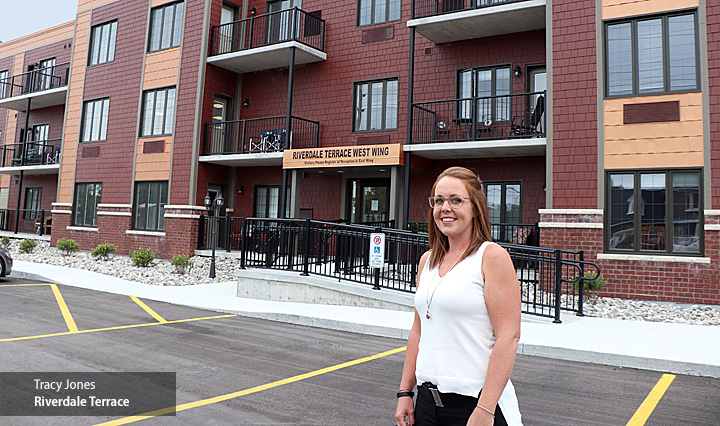 The new 3-storey addition houses 37 residential units to add to the 92 units in the primary building. The first floor features and 1 and 2 bedroom apartments for independent seniors, while the third floor offers a choice of all-inclusive studios and suites. The second floor will offer private and semi-private assisted-living rooms.
"We have expanded to better serve the needs of seniors in our community," says JC Godard, who owns Riverdale Terrace with his wife Suzi. "When seniors are ready to leave the responsibility and hassle of owning a home they can move in to Riverdale Terrace with the comfort of knowing they are in a secure facility where services are tailored to their needs."
The West Wing is connected to the existing Riverdale Terrace by way of a sky-walk. The $8.8 million new development, which includes underground parking, took several months to complete.
"We encourage people to book an appointment for a guided tour," says Tracy Jones, Executive Director of Riverdale Terrace. "We're really excited at the lifestyle options we have created for our residents."
Riverdale Terrace received support from the City of Cornwall via the Brownfield Community Improvement Program.
About Riverdale Terrace
Riverdale Terrace is a beautiful lodge-style retirement residence that was constructed in 2012 and expanded in 2020. The architectural elements of the building feature a mix of wood beam and stone on the exterior, and luxury finishes on the interior. Each apartment has either a balcony or terrace and each floor features common rooms overlooking the St. Lawrence River. The building has a large dining room on the main floor, and a large rock pond with waterfall in the courtyard. Recreation amenities include a movie theatre, bowling alley, indoor mini-putt course, pool room, fitness room and more.
You can learn more about Riverdale Terrace online at www.riverdaleterrace.ca