Riverfront Retirement Centre Proving to be a Popular Destination
January 22, 2021
Cornwall Ontario – The Riverfront Retirement Centre opened last year, and in the few months since the facility has welcomed 38 new residents.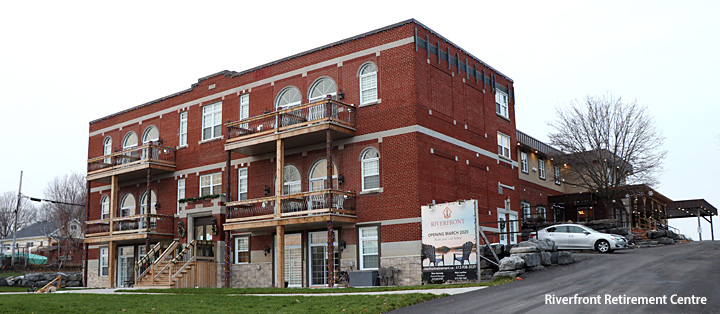 Riverfront offers 59 rooms overlooking the St. Lawrence River in Cornwall's east end. The retirement residence is a former elementary school built in 1934, and its new owners have painstakingly renovated the property to bring it up to modern standards.
"The goal was to give a new purpose to this heritage building," says Brian Kennedy, General Manager. "It was important to preserve its long history and heritage by maintaining the physical appearance of the original building as much as possible."
Today, Riverfront boasts a stunning facade that features 3 stories facing the river, with large windows providing panoramic views to residents.
Riverfront offers a variety of rooms equipped with all modern conveniences, ranging from the Lighthouse, a 229 sq.ft. studio apartment, to the Captain, a 381 sq.ft. one-bedroom apartment featuring views of the St. Lawrence river from a private balcony.
"Clients can choose from four different room models that will satisfy their individual needs and preferences," says Mr. Kennedy.  "Our staff is committed to offering a comfortable lifestyle with a full range of services and activities."
Indoor amenities include a full service dining room that offers 3 meals a day, along with an onsite hair salon.
The property has a huge rear yard, and the owners are planning to build Phase 2 with 30 additional rooms and Phase 3 with 50 town homes in the future, geared toward adults age 55 and over.
Riverfront Retirement Centre is located at 1810 Montreal Road. More information can be found online