Rurban Brewery Launches New Growler Service
July 17, 2019
Cornwall Ontario –  Rurban Brewery is launching a new growler service – just in time for the hazy hot days of summer.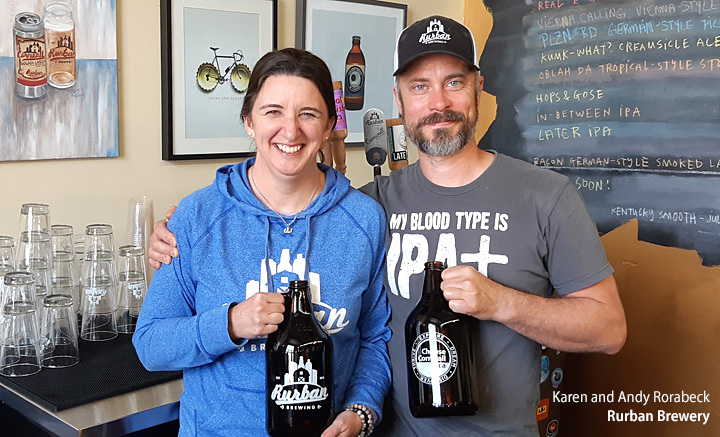 For people who are new to the concept, a growler is a glass bottle that holds 64 ounces of beer. The concept is relatively simple: bring an empty clean growler into the brewery, and leave with a bottle full of your favourite cold brew.
Rinse and repeat as necessary.
"When we started Rurban our capacity grew quickly and accordingly our focus was on cans and kegs," says Andy Rorabeck, brewer and co-owner of Rurban with his wife Karen. "At the time, growlers were not as popular in Ontario as they might be in other regions, but that is changing. We're happy to introduce this service for our customers."
There are a number of benefits to using growlers, not the least of which is the cool bottle which makes it easy to carry. Growlers are better for the environment, as the use of a reusable bottle easily trumps recyclable cans. Another key benefit is savings – growler users will save about a dollar per 64oz of beer, and over time, every dollar counts.
Growlers will be available for a small deposit fee and Rurban will also happily fill growlers that patrons bring in.
Rurban will also fill 32 ounce bottles, often referred to as 'grumblers'.  As always, Rurban very fine line-up of excellent beers will also be available in cans and on tap in the tap room.
Get your very own Rurban – Choose Cornwall Growler!
Rurban will be launching the growler service on Saturday July 20th with a limited supply of growlers branded with the Rurban and ChooseCornwall.ca logos. The deposit on the growler will be waived for the first 50 customers who request a fill (which means you get the growler for free! Limit of 1 per customer).  To help them celebrate, the Kinsmen Club Of Cornwall will be holding a BBQ of hot dogs and local sausages from 11am to 3pm.
About Growlers
The term "growler" dates back to the 1800's and referred to metal pails that were used to transport beer from the local tavern to home. Today, growlers are often made out of amber glass to protect the beer from UV rays, but can also found made of metal, ceramic and even plastic.
About Rurban Brewery
Rurban Brewing is a small-batch brewery located on Cumberland Street in Cornwall. It first opened its doors in December 2015 to rave reviews. The brewery makes a number of small batch ales, stouts and wheat beers at its Cumberland Street facility, including the popular Cornwall Golden Lager. In 2017 Rurban tripled production to meet growing demand and in 2018 opened a new tap room.
More info can be found online: