Ryerson University Studies Cornwall Brownfields
January 31, 2019
Cornwall Ontario – Ryerson University Planning students are choosing Cornwall as their studio project in the hopes of creating real-world solutions to brownfield site remediation.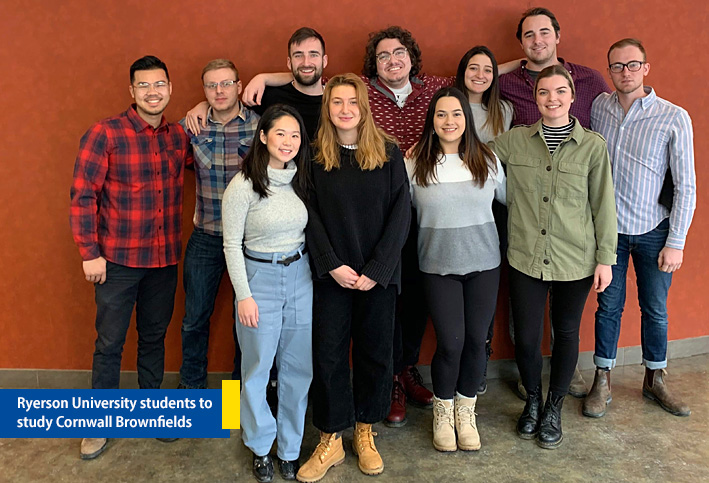 A dozen third-year urban planning students will review Cornwall's inventory of gas station sites and choose two high-priority locations to develop plans: one for an interim use project, and another for a redevelopment project.
"Former gas stations that are under-used, idled, vacant or abandoned are one of the most common types of brownfield sites found in Ontario and other communities in North America," said Chris De Sousa, Professor in the School of Urban and Regional Planning. "They can also prove to be the most challenging to redevelop."
Former gas station sites present a challenge for rehabilitation, as the properties are usually smaller, and require a sizeable new development to help offset the clean-up costs. Issues such as off-site migration of contamination and un-motivated property owners are also concerns.
In January 2018 Cornwall City Council asked the Ontario government to better promote and support the remediation of contaminated properties in urban centres, particularly former gas/service stations.
"Cornwall has made great strides in brownfield development, yet more work needs to be done," says Mayor Bernadette Clement. "We welcome the involvement of Ryerson University and look forward to the ideas put forward by the team."
Cornwall has three Community Improvement Programs that support property owners investing and redeveloping their properties. The Brownfields Community Improvement Program has been instrumental in the redevelopment of former contaminated industrial sites. Most recently a former gas station site on Montreal Road has been the subject of a remediation effort to facilitate a future mixed use development.
"The goal of the Community Improvement Program is to improve the cityscape while intensifying property use to the benefit of the entire neighbourhood," says Dana McLean, Development Coordinator with Cornwall Economic Development. "This study has the potential to provide a catalyst towards renewed investment in former gas station sites."
Project Scope and Objectives
The Planning students at Ryerson will review existing policies and planning frameworks, case studies, the local inventory of gas station sites and propose an interim use project and one redevelopment project for two high priority sites that will contribute to the City's tax base, expand employment opportunities, be compatible with the character of the neighbourhood and have sustainable design elements.
The comprehensive proposals must contain a project and buyer/user description, budget and financing strategy, development plan and a community enhancement and sustainability contribution statement.
About Ryerson University
Ryerson University is a public research university located in downtown Toronto, with approximately 40,000 full and part-time students. Ryerson's School of Urban and Regional Planning is home to one of the largest and oldest planning programs in North America. The rigorous curriculum integrates classroom learning opportunities with professional experience.
About Cornwall's Community Improvement Programs
Cornwall offers financial assistance programs to local property owners seeking to redevelop their properties. The Heart of the City Program supports revitalization projects that occur in the central core. The Renaissance Programs provides assistance to residential property owners in Le Village. The BrownfIelds Program supports remediation to help developers revitalize brownfield sites. Brownfields are abandoned, vacant, derelict or underutilized commercial and industrial properties, where past actions have resulted in contamination.  Since program inception, assistance of $25 million has leveraged private sector investments of $125 million across 250+ projects.
More information can be found in the CIP Program Brochure, which is available for download from the Resources page.