Scratch and Win this Holiday Season
December 1, 2021
Cornwall Ontario – Shoppers in Cornwall have the potential to add a nice surprise to someone's stocking this holiday season.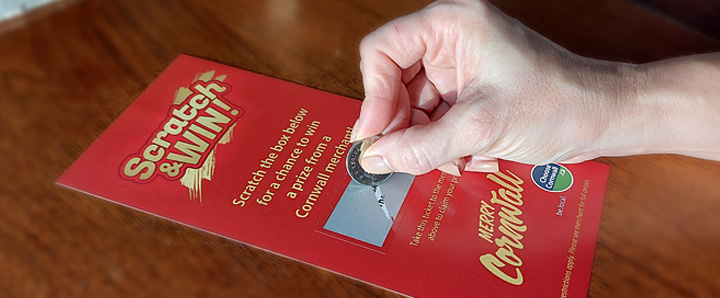 Over 3,000 Scratch and Win cards are available at Cornwall merchants – and every card is a winner!
"This is an extension of the Merry Cornwall campaign that was introduced last year," says Bob Peters, Manager of Cornwall Economic Development. "The goal is to connect shoppers with the locally owned merchants that are very much the economic heart of the community."
Scratch & Win cards are available at 43 participating businesses in the community, and offer the chance to win one of 53 different prizes that include gift cards, t-shirts, tasty treats and local crafts – including passes for free skates and swims at the Benson Centre and Aquatic Centre. Cards will also be distributed as part of the Chamber's Shop Local campaign and the Jingle Box campaign which returns for a second year (details coming soon!).
Overall there is over $28,000 in prizes to be won.
Scratch and Win cards will be available starting December 1st. The number of cards is limited to 3200, so hurry to play!
How to Play
Shoppers scratch the play area on the card and will then redeem the card for the prize at the appropriate merchant. Cards are valid from December 15, 2021 until March 31,  2022 or at the merchant's discretion. Some restrictions apply, full details are available from the merchant.
Merry Cornwall Scratch & Win – Participating Merchants
Archie's Family Golf
Au Vieux Duluth
Bend & Snap
Benson Centre
Bud's Records & Kool Things
Coleman's Mod & Repair
Cornwall Aquatic Centre
Cornwall Transit
Cowan's Dairy
Cristill Rock
Dairy Queen
Dazzling Costumes
Driftwood Candle Co.
ESCA Gourmet Pizza
Fantasy Realm
Fence Depot
Fines Home Hardware
Flowers Cornwall
Joey's Seafood
King's and Little Ones
Life's Little Pleasures
MEXI's Cornwall

Mi Cocina
Mike's Printing & Apparel
Nativity Bowling
Once Upon A Coffee Shop
Play It Again Sports
Pommier Jewellers
PURE Organic Spa
Ray Jans Windows & Doors
Red Cart Books
Rob's Wood-n-Stuff
RONA Cornwall
Rurban Brewing
Simply Jennifer
Sip & Scoop
Summerheights Golf Links
The Happy Popcorn Co.
The Local Fill
The Squire Shop
Tilly's Eatery & Deli
Total Cyclery & Sport
Truffles Burger Bar