SDG Community Maps Now Available to the Public
November 16, 2018
Cornwall Ontario – It is now easier to find your way around the region.
The United Counties of Stormont, Dundas and Glengarry (SDG) recently launched its online interactive mapping tool, entitled SDG Community Maps.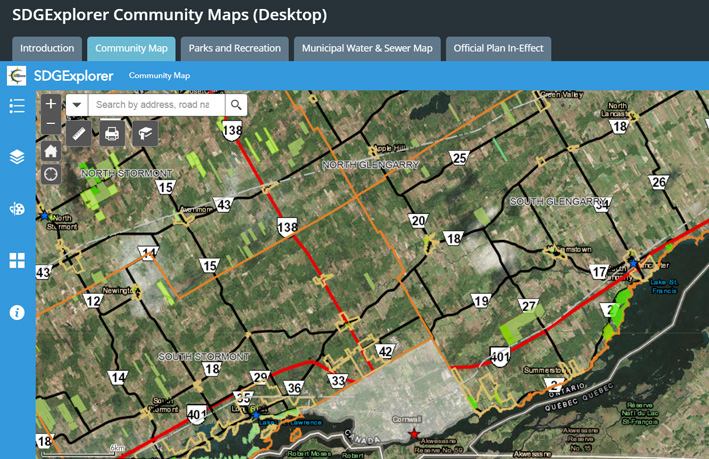 SDG Community Maps provides a range of helpful information about local communities; from parks and recreation to water and sewer infrastructure. Maps are available in both desktop and mobile formats.
"SDG Community Maps is a great tool for community members and residents," says Alison McDonald, Manager of Planning for SDG. "It helps local municipalities promote parks, trails, and important recreation features. It provides valuable information and tools for people preparing planning and development applications. Overall, this self-serve portal provides easy access to valuable information and tools at no charge to the public."
Residents can now use SDG Community Maps to find points of interest including libraries, schools, cemeteries, community centres, and parks. Creating and printing maps, measuring distances and finding out more about property specifics is now only a few clicks away.
Cornwall Maps
The City of Cornwall has had online mapping tools for a number of years now as part of a wide selection of GIS services. The addition of the SDG information is a welcome addition to publicly available information in the region.
You can access the online maps via the following links:
About Geographic Information Systems
A geographic information system (GIS) is a framework for gathering, managing, and analyzing data. Rooted in the science of geography, GIS integrates many types of data. It analyzes spatial location and organizes layers of information into visualizations using maps and 3D scenes. ​GIS integrates many different kinds of data layers using spatial location including imagery, features, and basemaps linked to spreadsheets and tables. With this unique capability, GIS reveals deeper insights into data, such as patterns, relationships, and situations—helping users make smarter decisions.