SDG Launches Date My County Campaign
August 8, 2022
Cornwall Ontario – The United Counties of Stormont, Dundas and Glengarry is throwing out the welcome mat and inviting new residents to discover what the region has to offer.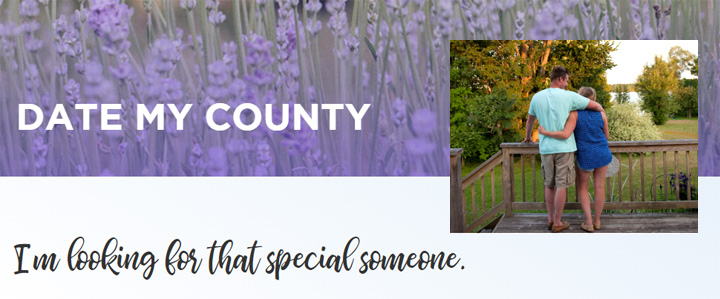 SDG has launched "Date My County" a campaign that will see the the Counties pay for one lucky individual, or family, to live in the region for a year.
"It's a chance for individuals who are sick of the frustrations of big-city life to truly discover the culture, beauty and vastness of our area. SDG Counties is located within a one-hour drive of metropolitan hubs in Ottawa, Montreal and New York State, but our County is far removed from the hectic life most city dwellers face. We enjoy the best of both worlds. We have wide-open spaces, with great cycling, agri-tourism assets and a growing resurgence of culinary delights and vineyard experiences – but without the traffic congestion and confined spaces of city life," said SDG Counties Manager of Economic Development, Tara Kirkpatrick.
The goal of the Date My County campaign is to showcase the region to young families and working professionals who might want to relocate to the region. As part of the contest, applicants are asked to submit a one-minute video and a brief, 50-word essay explaining why they should be selected. The winning applicant will act as a brand-ambassador for the County for a year and will be asked to journal about their experience in twice monthly blog posts shared to the Counties social media pages.
In return, the winner will receive up to a maximum of $1,500 per month, for up to 12 consecutive months towards the cost of accommodations spent living in SDG Counties for the year that the contest runs. The prize winner will be responsible for selecting their accommodations, whether they be short-term accommodations, a rental unit, or a house they choose to purchase. Grant monies will be given to the winner upon proof of monthly accommodations costs.
"This is a great opportunity for a young family looking to make a change. Many years ago, when my husband and I were raising our own young family, we moved here from the Yukon. I can personally attest to the fact that there is something deeply special about SDG Counties. It's a place that draws you in. It's a place where everyone is welcome and where communities are still active. It's a place that is growing and evolving, but where our values remain important to us. We hope you can join us in becoming a part of this community," said United Counties of Stormont, Dundas and Glengarry Warden Carma Williams.
In order to promote the campaign, a Date My County video has been created.
Date My County applications will be accepted from Aug. 8, 2022, until 12 p.m. on Nov. 1, 2022. Applicants must be willing to relocate to SDG Counties and to live here for at least 12 consecutive months between the period of November 2022 and January 2024.  Current residents within the City of Cornwall and the United Counties of Stormont, Dundas and Glengarry are ineligible to apply.
Applications can be completed at www.datemycounty.ca
Quick Facts
Housing costs in SDG Counties remain some of the most affordable in Canada. As of June 2022, the average price of a Canadian home was $665,849. In our local region, including SDG Counties, the average home price is estimated at $418,748 (Source: Cornwall Real Estate Board. https://www.crea.ca/housing-market-stats/canadian-housing-market-stats/national-price-map/ )
Job opportunities abound in SDG Counties! During the 2022 Cornwall and Area Job Fair, more than 500 jobs were posted.
SDG Counties is home to great rivers to paddle, trails to explore and culinary delights to savour. Learn more about us at www.whereontariobegan.ca